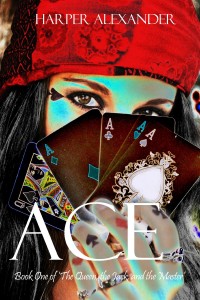 I downloaded Harper Alexander's Ace (The Queen, the Jack, and the Master, #1) from Amazon's KDP list.
Description from Goodreads:
"There will be crime on your hands, and treachery on your heels. A cruel, cruel world on your shoulders, and no flowers on your grave. And the joke, well…unfortunately, bless your heart, the joke will be on you. Only you. For there is a presence of hostility whose fangs are sunk deep into your future. There are gnashing teeth on your heels and around every bend. There is a price on your destiny. The bounty hunters among the angels will be after you. There is no stealth, Lady Spade. There is only running. So I suggest you run."
If she had been so lucky, Ace might have received just such a warning. But the entirety of the point, here, is that she's not. She has been chronically hapless from the web of the womb. Cursed with relentless, ruthless misfortune. Her very own entourage of bad luck, its signature everywhere, its shadow widespread and swift. The only compensation for this forsaken fate, destiny's sole remedy: the fact that she is gifted and lucky at cards. Grossly lucky.
But survival is far from sympathetic. And not all games are as easy as cards on a table.
Review:
I couldn't log into Goodreads last night for some reason, which means I couldn't see my TBR list [the horror]. I was forced to pick something from my kindle essentially at random. I chose Ace. It starts with an A so it was early in the list. I was too lazy to keep looking. Decision made, end of.
I started it largely without reading the description. I'm sure I did when I downloaded it, but who know when that might have been. I didn't know what I was getting into and this isn't one of those books that tells you the plot on page one. Once I figured out what was going on, however, I started to really enjoyed it. The writing is sharp and theres's a certain snappiness to the narration that I liked a lot. I kept on enjoying it until…
If I used star ratings on this blog I would say that I was set on giving it a full five stars right up until the last page, when it just suddenly and unexpectedly ended. There was no tapering off, no conclusion of the plot, no closure with the characters, just a harsh, ragged ending. It was as if someone had ripped several pages out (except that i was reading the Kindle version). It's 338 pages long, so it's a complete book, not one of those teaser novellas that are all the rage right now. But there is NO ending. This is not a stand alone book. I hate that! It's my current number one literary pet peeve. I would almost drop it all the way down to three stars out of simple irritation, but that really wouldn't be fair. But really, who wants to finish a book and not know the ending?
Lack of satisfying conclusion aside, I liked almost everything else about this book. (Except for the fangs explicatives. It was a cute idea, but there were just so fanged many of them.) It did take a startling long time to figure out where the plot was going. I don't just mean that it's such a intriguing mystery I couldn't figure it out. It felt a bit like it was drifting. Characters have to find their quest, or obstacle to over-come and it took a long time (most of the book actually) for Ace to find hers. If in fact she did. Given the lack of ending it's hard to know if the final escapade was THE ONE or just another one. That's part of what made the abrupt ending so harsh. It felt like she had JUST, finally gotten started. Be that as it may, I enjoyed her crazy, unpredictable, curse-ridden journey, even when I didn't know what it was supposed to be accomplishing. (OK, I'm letting it go now.)
The whole thing had a strange Douglas Adams feel to it. It's a completely different genre, of course, dragons instead of space ships, lack-luster primitives instead of depressed robots, but the random nature of events felt similar. So did the humour. Ace's non-plus acceptance of her curse and the unexpected places it took her is very reminiscent of Arthur Dent's hapless trek through the galaxy at the behest of good old Ford Prefect. I laughed aloud more than once.
Ace, herself, is a strong female lead. Very little makes her loose her cool…very little but one, Mr. Cheater. Cheater gets on her very last nerve on a regular basis and I loved him. He was calm and collected, mysterious and dangerous, witty and just a little sexy too. I want more of him. There were very few meaningful side characters in the book. Palo is the only one I can even think of. But Ace encountered quite a few that popped in and then out again. They may or may not be of any importance.
All-in-all, I generally enjoyed the book, but there is just so much unfinished business that I feel very unsettled about it. (OK, so I couldn't quite let it go.) What about the pirates, the crazy gypsy lady, the old woman and her amazing mansion? I want to know. I've got the sequel, Ace of Hearts. I'm really hoping it clears things up because I genuinely want to go back to loving this story.
April 14, 2013: If you're interested, I read and reviewed Ace of Hearts here. I had many of the same compliments for the second book as the first, but also many of the same complaints.