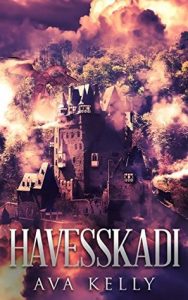 I received a copy of Havesskadi
, by Ava Kelly, through Netgalley.
Description from Goodreads:
Nevmis, the red dragon, is hunting her own. Up in the icy peaks of the northern mountains, Orsie spends his lonely days hiding from her, but eventually he is found and his dragon magic stolen. Cursed to wander the lands as a mortal unless he recovers his magic before twenty-four rising crescents have passed, Orsie embarks on an arduous journey. Spurred by the whispers in his mind, his quest takes him to a castle hidden deep in a forest.
Arkeva, a skilled archer, is trapped in an abandoned castle deep in the woods, his only company two companions—one kind, the other cruel. Then a stranger arrives, a young man who soon finds himself confined by heavy snowfalls—and in danger from what slumbers in the shadows of the castle.
Review:
This isn't horrible, but it's too long by half and heavily dependent on two people not having a conversation that the continued avoidance of feels manipulated and unnatural. Further, there's very little character development and almost no actual characters beyond the two main ones. I also have questions about these all important dragon souls. It's an interesting idea, but not nearly well enough explained. All in all, it's a sweet story, but it's a poorly executed book.