Last week I listened to Emma Hamm's The Faceless Woman and so enjoyed it that I went in search of the beginning of the series and spent this weekend listening to Heart of the Fae and Veins of Magic.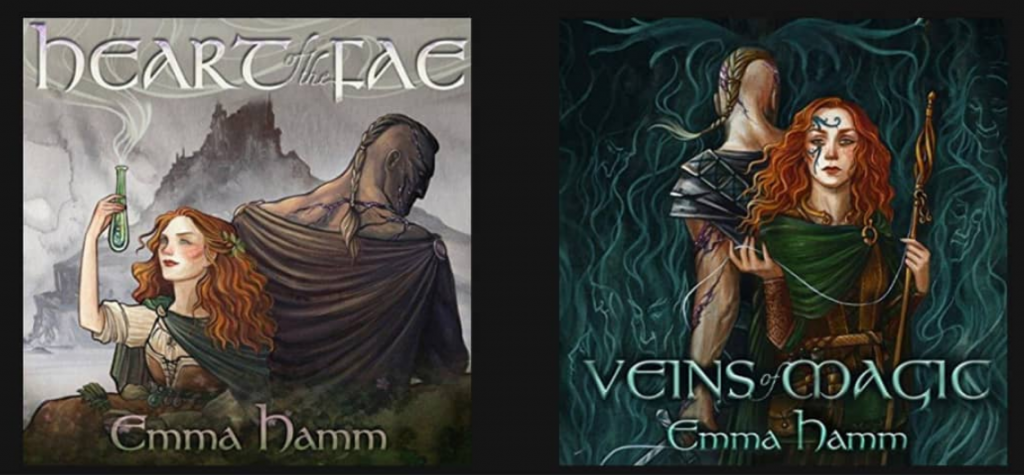 Description:
Once upon a time…

A plague sweeps across the emerald hills of Uí Néill, leaving a young midwife's father with months to live. To save her people, Sorcha makes a deal with a dangerous Fae. She must travel across the sea, through merrow and kelpie lands, to find a forgotten king on a crumbling throne.

Born king of the Seelie Fae, Eamonn fought battles unnumbered to uphold honor, duty, and freedom… until his twin brother sank a blade between his shoulders. Crystals grew from the wound, splitting open skin and bone. His people banished him to a cursed isle for his disfigurement, now king of criminals and fools.

With the help of brownies, pixies, and will-o'-the-wisps, Sorcha battles to break through his crystalline shell and persuade him to take back his stolen throne.

This determined beauty could come dangerously close to stealing his beastly heart.
Review:
Since Heart of the Fae and Veins of Magic form a duology, neither standing alone, I'm going to write a single review encompassing both. But one of the main takeaway potential readers should understand is this point that they need both books for a complete story.

I really enjoyed this, both the story and the narration. I really like that Hamm's fae are old school scary fae, her female characters are strong and full of agency, and her male ones aren't afraid to show need. I especially appreciated that it was Sorcha who took the lead in most sexual situations.

My only complaint here is how very gendered everything is. While I appreciate that Hamm's goal was to emphasize that both a king and a queen are necessary, neither an accouterment to the other. (A pleasant change from most stories that center a king and make the queen little more than an accessory or political pawn.) But the book leans hard into women being soft and kind and caring and men being violent, rough and in need of tempering. True, Sorcha had to go against that in the course of the story but it was still a strong theme in the book. (As was how much bigger he was than her, another classic gendering technique.)

All in all however, I can't wait to dive into more of Hamm's writing and Waring's narration.