I borrowed a copy of Heartstone, by Elle Katharine White, from the local library.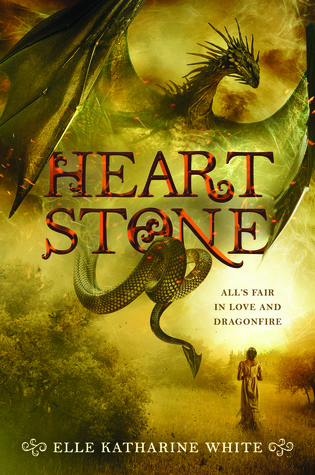 Description from Goodreads:
A debut historical fantasy that recasts Jane Austen's beloved Pride & Prejudice in a world of wyverns, dragons, and the warriors who fight alongside them against the monsters that threaten the kingdom: gryphons, direwolves, lamias, banshees, and lindworms.

They say a Rider in possession of a good blade must be in want of a monster to slay—and Merybourne Manor has plenty of monsters.

Passionate, headstrong Aliza Bentaine knows this all too well; she's already lost one sister to the invading gryphons. So when Lord Merybourne hires a band of Riders to hunt down the horde, Aliza is relieved her home will soon be safe again.

Her relief is short-lived. With the arrival of the haughty and handsome dragonrider, Alastair Daired, Aliza expects a battle; what she doesn't expect is a romantic clash of wills, pitting words and wit against the pride of an ancient house. Nor does she anticipate the mystery that follows them from Merybourne Manor, its roots running deep as the foundations of the kingdom itself, where something old and dreadful slumbers . . . something far more sinister than gryphons.

It's a war Aliza is ill-prepared to wage, on a battlefield she's never known before: one spanning kingdoms, class lines, and the curious nature of her own heart.
Review:
This was ok, just a little more YA than I was prepared for. Of course, I can't criticize it for being what it is. I'm just admitting that I went in with a misconception. I saw that it's a fantasy retelling of Pride and Prejudice and decided to go for it.
The writing is fine and I liked the characters well enough. However, this has a serious case of a love interest who never actually shows any love, not even any curtesy. Up until the moment he declares himself, I (and the heroine) thought he distinctly disliked her. So, love came as a surprise. Yes, I could tell he was being set up as the hero. But we're never given any reason to tolerate, let alone like him. I appreciate that the heroine told him all of this. But she then turned right around and decided she loved him anyway. I didn't feel this love develop AT ALL. The sister's secondary romance was far more developed.
My biggest complaint about the book, however, is the fact that the heroine threw herself into danger that should have killed her, somehow miraculously survived, and her mere presence made things happen. As an example (and this is a SPOILER), hundreds of people were fighting and dying to kill the big bad at the end, had been for days. She literally showed up, said three sentences and within five minutes (maybe less) the big bad was dead, the hero was saved from something that should have killed him, and everyone lived happily ever after. All she had to do was show up. I found this anticlimactic and unbelievable.
I have book two. This was originally going to be a multi-book review. But, at this point, I'm undecided if I'll read it or not.