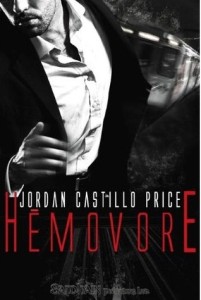 I bought a copy of Hemovore, by Jordan Castillo Price.
Description from Goodreads:
Ten years ago, the Human Hemovore Virus blazed through the world, and left the few victims who survived unable to eat, allergic to sunlight and craving the taste of blood.
Mark Jensen used to think V-positives were incredibly sexy with their pale, flawless skin and taut, lean bodies. Not anymore. Not since he's been stuck procuring under-the-counter feline blood for his control-freak boss, Jonathan Varga. Why cat blood? Mark has never dared to ask.
It's not as if he's usually at a loss for words. He can dish an insult and follow it with a snap as quick as you can say "Miss Thang". But one look at Jonathan's black-as-sin gypsy eyes, and Mark's objections drain away.
So he endures their strange, endless routine: Jonathan hiding in his studio, painting solid black canvases. Mark hurling insults as he buffs the office to a shine with antiviral wipes and maps out the mysterious "routes" he's required to drive.
Then a blurb in Art in America unleashes a chain of events neither of them saw coming. As secrets of Jonathan's past come to light, it becomes clear all his precautions weren't nearly enough.
Review:
This is an excellent new (or at least different) take on the vampire story. There is just so much to appreciate in this novel. It's fast paced, though more so in the last half than the first and there is a little bit of a lull toward the middle. It's tightly plotted with an interesting shift in emphasis between the beginning and the end.
The characters are engaging, though I never quite felt I knew Jonathan as well as Mark, the primary POV. Plus, Jonathan seemed to have a little character drift between him in the beginning and him at the end. But I very much liked them both. I also very much appreciated the sexual tension, but the fact that there is very little actual sex.
The idea of vampirism as a disease isn't a new one, but I don't know that I've ever read a book in which it is so clinically addressed. I liked it. However, for a disease with an 85% mortality rate it seemed an odd forgone conclusion that the character in question would survive. I felt very little angst around this.
All in all, I really quite enjoyed this. But I've yet to read a JCP that I didn't, so no big surprise there.