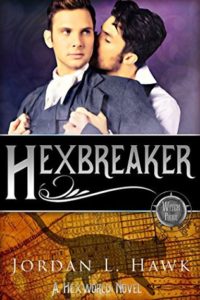 I purchased an e-copy of Hexbreaker, by Jordan L. Hawk.
Description from Goodreads:
New York copper Tom Halloran is a man with a past. If anyone finds out he once ran with the notorious O'Connell tunnel gang, he'll spend the rest of his life doing hard time behind bars. But Tom's secret is threatened when a horrible murder on his beat seems to have been caused by the same ancient magic that killed his gang. 
Cat shifter Cicero is determined to investigate the disappearance of one friend and the death of another, even though no one else believes the cases are connected. When the trail of his investigation crosses Tom's, the very bohemian Cicero instinctively recognizes the uncultured Irish patrolman as his witch. Though they're completely unsuited to one another, Cicero has no choice but to work alongside Tom…all the while fighting against the passion growing within. 
Tom knows that taking Cicero as his familiar would only lead to discovery and disaster. Yet as the heat between them builds, Tom's need for the other man threatens to overcome every rational argument against becoming involved. 
But when their investigation uncovers a conspiracy that threatens all of New York, Tom must make the hardest decision of his life: to live a lie and gain his heart's desire, or to confess the truth and sacrifice it all. 
Review:
I really quite enjoyed this one. Well, it's kind of hard not to when there is a big, lovable teddybear like Tom involved. Don't get me wrong; I liked Cicero too. But Tom won the show for me.
I liked the idea of witches and their shifter familiars. I liked the world-building, which was never obvious but I still understood the politics and hierarchies of the world. The writing was mostly wonderful. One of my few complaints is that I thought it faltered into clunky, almost cheesy prose sometimes, but mostly not. My only other real criticism is that the sex scenes felt quite abrupt and a little out of character for where the characters were, emotionally at the time.
It's a complete story, no cliffhanger and I didn't feel I was missing information having not read the prequel. Gotta appreciate that. I've read a couple Hawk books now and I've been happy with each one. I look forward to more.