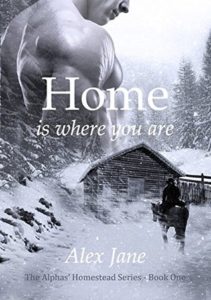 Alex Jane sent me a copy of Home is Where You Are for review.
Description from Goodreads:
By the winter of 1870, Caleb Fletcher has carved out a sheltered existence for himself in a simple cabin, outside a small town in the backwaters of Nebraska, resigned to living out his days as a solitary wolf. But his quiet life is interrupted when another werewolf lands on his doorstep on the eve of a snowstorm, brutalized almost beyond repair, with nowhere else to turn.
When Caleb reluctantly welcomes Jacob into his cabin, and eventually his bed, it forces him to face up to the traumas he's been running from; the shame that made him leave his pack behind, and the horrors of war he endured.
As the weeks pass, it seems that Jacob's arrival might not be the coincidence it first appeared. Jacob has an agenda. One that involves Caleb. And if Caleb agrees to it – if he can let go of his past and his prejudices – it will change Caleb's whole world. Maybe even for the better.
Without a mate – a family, a pack – a wolf has no home. 
But what if home finds you?
Review:
I thought this was really quite cute. I quickly came to appreciate both Caleb and Jacob. I thought narrative voice was pleasing, the story satisfying and the writing crisp. Basically, I enjoyed it.
However, I am not without complaints. I thought the first half took a long time to finally setting into a romance. Then, past the half-way mark, the story simultaneously dragged (in the sense that every-time I thought the story had come to and end something new cropped up and the book felt overly long) and rushed (in the sense that all those bullet point, happily ever after events were relayed in a hurried and perfunctory way that didn't at all match the style of the first half of the book). I also would have liked a deeper understanding of the world.
In the end, I'd call it a success though. I enjoyed it and that's what I look for in a book.
Edit: The author later sent me a copy of the follow-up story for this book. It's not quite a sequel, more like a add-on. You can see my review here.