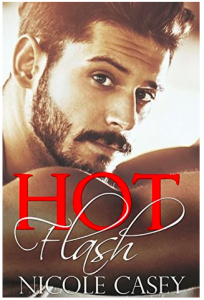 Author, Nicole Casey sent me a copy of their novel Hot Flash
.
Description from Goodreads:
Give him your latest novel, Ariana says. It'll be the best way to thank him, she says.
Yeah. If only it were that easy.
After all, Dylan is a firefighter who runs into burning buildings to save lives. It's how I met him—and how, after a freak accident at my apartment complex, he saved my life.
What could he ever see in a guy like me, who's little more than a writer who sits in front of his computer all day?
I guess Ariana is right.
There's only one way to find out if he's interested.
Review:
As I said, I received an ARC of Hot Flash from the author, some time ago, and then promptly lost it in my jungle of ebooks. I rediscovered and read it tonight. I liked it better when it was lost and just an idea to me. It has a sweet plot, but is rushed and unsupported. Nothing feels natural or believable. The parrot was cute though.