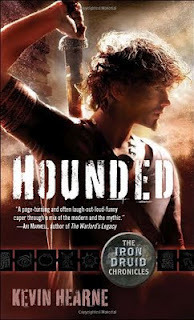 I borrowed a copy of Kevin Hearne's Hounded from the local library.
Description from Goodreads:
Atticus O'Sullivan, last of the Druids, lives peacefully in Arizona, running an occult bookshop and shape-shifting in his spare time to hunt with his Irish wolfhound. His neighbors and customers think that this handsome, tattooed Irish dude is about twenty-one years old—when in actuality, he's twenty-one centuries old. Not to mention: He draws his power from the earth, possesses a sharp wit, and wields an even sharper magical sword known as Fragarach, the Answerer.
Unfortunately, a very angry Celtic god wants that sword, and he's hounded Atticus for centuries. Now the determined deity has tracked him down, and Atticus will need all his power—plus the help of a seductive goddess of death, his vampire and werewolf team of attorneys, a bartender possessed by a Hindu witch, and some good old-fashioned luck of the Irish—to kick some Celtic arse and deliver himself from evil.
Review:
I'm in a Fans of Urban Fantasy Facebook group and this book has been raved about several times. So, I decided to give it a go. I must be an outlier of some sort, because I seriously did not like this book.
The writing and editing is fine. But I thought the main character was an asshole—much of his humor striking me as arrogance—and I was constantly annoyed at the representation of women throughout.
At page 110 I wrote a Goodreads update that said:
May I introduce the women of Hounded so far:
Beautiful goddess who stands around naked and kisses Atticus.
Beautiful goddess who sleeps with Atticus.
Causally mentioned ex-lover.
Neighbor, who if "50 years younger" would sleep with Atticus.
Sexy bartender that flirts with Atticus.
Sexy witch that wants a potion to make a man impotent & is a bitch.
That's it. Anyone see a theme? I see a theme. blrg
By the end of the book my opinion hadn't changed. But it isn't just that all of the women are reduced to their hotness (or not)—their sexual availability (or not). Nor even that several of them try to seduce Atticus (because he's apparently un-resistible). It was the constancy and the tone of it all.
For example, in the mention of the ex-lover the only thing we're told about her is that she had a ridiculous tattoo and that she stormed out after sex because of a stupid reason. Thus, the reader is to understand she was crazy and not see Atticus as callous because he was relieved she left after he was finished with her (except he kind of was). Every woman's body was described, and even the dog was constantly talking about Genghis Khan's harem and about getting some 'French poodles.' The freaking final joke of the book is that Atticus arranged for the house to be full of French poodles in heat and Oberon was disappointed that there were only five. Women were reduced to sexual objects (or those who weren't sexually available, to villains) and jokes. Someone try and tell me old Mrs. MacDonagh was anything but a running gag!
Of course the representation of women isn't all this book consists of. But the way they were constantly treated contaminated every other aspect of the story for me. Add that to a main character I found juvenile and inconsiderate (who give magical wedgies to EMTs who are trying to save their life?) and I had to finish this book by force of will alone. I won't be continuing the series.