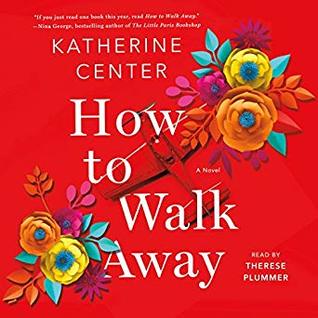 I borrowed an audio copy of How to Walk Away, by Katherine Center from my local library.
Description from Goodreads:
Margaret Jacobsen has a bright future ahead of her: a fiancé she adores, her dream job, and the promise of a picture-perfect life just around the corner. Then, suddenly, on what should have been one of the happiest days of her life, everything she worked for is taken away in one tumultuous moment .
In the hospital and forced to face the possibility that nothing will ever be the same again, Margaret must figure out how to move forward on her own terms while facing long-held family secrets, devastating heartbreak, and the idea that love might find her in the last place she would ever expect.

Review (with spoiler):
To my complete surprise, I really enjoyed this. Plus, even though I have the paperback, I'm really glad I decided to go with the audio version. Because I think Plummer's performance only contributed to my enjoyment.
How to Walk Away deals with some tragic topics. There's the accident and subsequent paralyzation of the main character, but also all of the innumerable ways she is further victimized by the people around her; most without ever intending to be cruel. But these were balanced with a wry humor and the lightness of support from unexpected (and often resented) corners. Maggie's sister especially was a star of the book for me.
I of course realize that in real life Ian falling in love with Maggie would cross some serious ethical lines (and this is addressed in the book), but in the confines of fiction, I thought the romance was very sweet. And I can not say how happy I am that Center chose not to give Maggie any miraculous recovery. Maggie learned to happy with life with her injury, to live life and find meaning while in her wheel chair. This makes for a much more meaningful story than one in which a character is "fixed." All in all, a true win in my opinion.