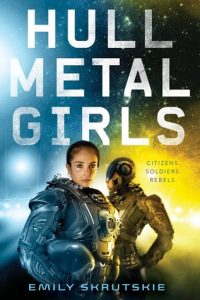 I won a signed copy of Hullmetal Girls
, by Emily Skrutskie though Goodreads.
Description:
Aisha Un-Haad would do anything for her family. When her brother contracts a plague, she knows her janitor's salary isn't enough to fund his treatment. So she volunteers to become a Scela, a mechanically enhanced soldier sworn to protect and serve the governing body of the Fleet, the collective of starships they call home. If Aisha can survive the harrowing modifications and earn an elite place in the Scela ranks, she may be able to save her brother.
Key Tanaka awakens in a Scela body with only hazy memories of her life before. She knows she's from the privileged end of the Fleet, but she has no recollection of why she chose to give up a life of luxury to become a hulking cyborg soldier. If she can make it through the training, she might have a shot at recovering her missing past.
In a unit of new recruits vying for top placement, Aisha's and Key's paths collide, and the two must learn to work together–a tall order for girls from opposite ends of the Fleet. But a rebellion is stirring, pitting those who yearn for independence from the Fleet against a government struggling to maintain unity.
With violence brewing and dark secrets surfacing, Aisha and Key find themselves questioning their loyalties. They will have to put aside their differences, though, if they want to keep humanity from tearing itself apart.
Review:
This was so much better than I expected. I'm just so jaded on YA lit, but this gave me hope for the genre. These girls face some real challenges and succeed through perseverance and determination, every times. Plus, the book is full of diversity and calmly breaks patriarchal norms all over the place. There are people who look different from one another and economic/class distinctions. There's an aroace character, a pansexual character, someone who isn't sure, a heterosexual character (they have a conversation, sexuality isn't a big thing in the book). A gay couple adopts a child because a woman loves her child but isn't maternal or want to be a mother and that's ok. One of the main characters is religious and wears a head scarf. All the people in positions of power are female (even God) and no one tries to explain it away or excuse it. Romance or being slighted by a man isn't a motivating force for anyone. Of the only significant male characters, one is inept and clumsy and one is a support worker. There is just so much to love about it.
I did think the story was dependent on the characters being given leeway that didn't make sense and I wasn't entirely sure what actually happened with Key at the end. It didn't seem to fit the science of the eco rigs, as explained. But these are small complaints on the whole, I really enjoyed the book and look forward to more of Skrutskie's writing.