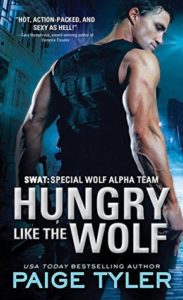 I picked up Hungry Like the Wolf, by Paige Tyler, as an Amazon freebie. It was still free at the time of posting.
Description from Goodreads:
The Dallas SWAT team is hiding one helluva secret . . . they're a pack of wolf shifters.
The team of elite sharpshooters is ultra-secretive—and also the darlings of Dallas. This doesn't sit well with investigative journalist Mackenzie Stone. They must be hiding something . . . and she's determined to find out what.
Keeping Mac at a distance proves impossible for SWAT team commander Gage Dixon. She's smart, sexy, and makes him feel alive for the first time in years. But she's getting dangerously close to the truth—and perilously close to his heart…
Review:
Pretty standard alpha shifter finds his destined mate PNR. But pleasantly, Gage wasn't an A-hole about it and, though spunky reporter gets her man is one of my least favorite characterization, Mac was far more self-sufficient that a lot of such PNRs let female characters be, so I rather enjoyed it. I wouldn't call this outstanding in any fashion, but it really wasn't bad either. Worth picking up, at the very least.
I did think it was overly long. In fact, three separate times I thought I'd reached the end, only to have the plot pick back up again. I also thought there was too much sex…or not so much sex, as not all of it is on page, but the characters have too much sex. The amount of time dedicated to setting up the scenes contributes to the too long book, I think.
But again, it's worth a read. I didn't consider my time wasted.