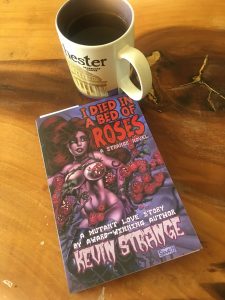 I won a copy of Kevin Strange's I Died on a Bed of Roses through Goodreads.
Description:
Cult horror filmmaker Brian Sully has isolated himself to a simple life on the Oregon coast after being publicly shamed by the lead actress of his most recent B-Movie monster flick for sending her pictures of his dick. Brian's years of isolation have left him on the brink of suicide. But after his best friend and producer books him at a 20th anniversary horror festival honoring their first feature film, Brian Sully's life is about to change. Is true love real? What if you fell in love with something not quite… Human? Would you pursue it? Would you let anything stop you? Even death? I DIED IN A BED OF ROSES is Kevin Strange's first ever crack at the paranormal romance genre. But if you're expecting a mushy love story, well, you don't know Kevin Strange!
Review:
I'm never entirely sure how to review bizaro fiction, let alone bizaro horror, because it's, you know, bizarre. This one starts out pretty well, which was a relief. The cover left me fearing it might just turn into male-centric wank fodder. (It doesn't. It's very male-centric, but not a wank fest.) I'm afraid it does peter out though, veering off into a rushed, simplistic, deus ex mechana climax and ending. This is maybe not surprising, since the author says in the beginning that the book was written during a weeklong writing retreat and the beginning was birthed more easily than the end. It's not bad. It's actually pretty finny at times. But I think this will definitely be a case of finding the right reader for the book.
……Ok, I just want to say wank one more time.