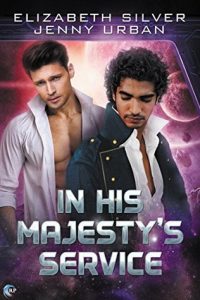 I received a copy of In His Majesty's Service, by Elizabeth Silver & Jenny Urban through Netgalley.
Description from Goodreads:
Everyone in the Drion Collective knows that finding your match—the one person in existence with the same soul mark as yours—is the best thing that could ever happen. But the last thing Lord Anders Hawthorne is thinking about when he boards a ship to Drion for the king's funeral is finding his soul mate.
Captain Zachary O'Connell has the perfect life—his ship, the stars, and no emotional entanglements. When heat sparks between him and Lord Hawthorne, Zach gleefully dives into a no-strings arrangement. He doesn't expect it to last beyond arrival at Drion, any more than he expects trouble along the way.
Trouble quickly finds them, however, and it soon becomes clear that Lord Hawthorne is not only not who he says he is, but also that he's the target of a deadly plot. With danger all around them, Zach and Anders must work together to save the Collective. Meanwhile, Zach must come to grips with losing everything he always thought he wanted, to have the one thing he never dreamed he needed.
Review:
Sooooo, this was not very good. There was WAY too much sex, given the length and amount of plot. It seriously suffered from lack of subtlety or buildup. As an example, the first time the two men met was over a dinner at the captain's table. The only conversation was about the steak, and it's barely a conversation. There was no indication that these two men had any interest in each other. Then on the next page, they were jumping into bed and the pet names and 'this is special' starts. The whole book was like that. The authors don't give anything time to develop, just lobbing stuff at the reader out of no where.
Mechanically, the writing is fine, except for some repetition. They seemed to do nothing but rub noses and fall into bed. But the book is just too long. Half of the petty squabbles could have been cut and we'd still understand they were struggling to get to know one another. As could half the sex scenes. They were fairly repetitive anyway, always doing the same things. I just didn't enjoy it and have no interest in continuing the series.