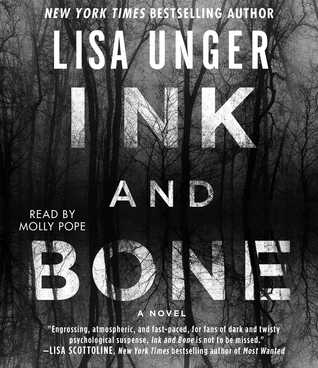 I borrowed a copy of Lisa Unger's Ink and Bone through my local library. 
Description from Goodreads:
For as long as she can remember, twenty-year-old Finley Montgomery has been able to see into the future. She dreams about events before they occur and sees beyond the physical world, unconsciously using her power to make supernatural things happen.
But Finley can't control these powers—and there's only one person who can help. So Finley moves to The Hollows, a small town in upstate New York where her grandmother lives, a renowned seer who can finally teach Finley how to use her gift.
A gift that is proving to be both a blessing and a curse, as Finley lands in the middle of a dangerous investigation involving a young girl who has been missing for ten months and the police have all but given up hope.
With time running out there's only so much Finley can do as The Hollows begins to reveal its true colors. As she digs deeper into the town and its endless layers, nothing is what it seems. But one thing is clear: The Hollows gets what it wants, no matter what.
Review:
I quite enjoyed this and I think Molly Pope read it well. I liked that everyone was a little messed up and, while that might not have directly contributed to the tragedy, everyone was forced to confront it. I thought there were several things that felt very real. I liked the characters and I liked the pacing.
I did think the twist at the end was a little forced. I worked, but I found it difficult. I was invested in someone else. (And I can't explain further without a major spoiler)
For the record, this is book five in a series. But I hadn't read any of the previous books and didn't feel the lack at all. It stands fully alone.