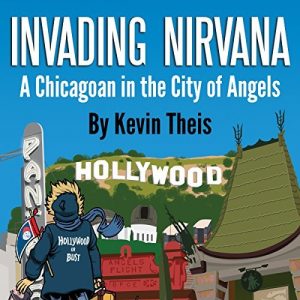 I won an audio copy of Kevin Theis' Invading Nirvana through Dab of Darkness.
Description from Goodreads:
Chicago theater veteran Kevin Theis, co-author of the cult classic "Confessions of a Transylvanian: a Story of Sex, Drugs and Rocky Horror," presents: "Invading Nirvana: a Chicagoan in the City of Angels" the story of one actor's quixotic odyssey into the heart of the entertainment industry: Hollywood, California.
From the early preparations for his trip to La La Land to his search for representation, his encounters with the famous (and soon-to-be famous) as well as his deep-dive exploration of this unique and fascinating city, "Invading Nirvana" is a must-read for anyone considering moving to L.A. to pursue a dream of breaking into show business.
The author is both candid and unsparing in his description of the industry, the city of Los Angeles and the challenges of being a performer in Hollywood looking for work.  Casting agents, pay-to-meet workshops, the comedy club scene, film and TV auditions as well as a peek inside the audiobook world; every aspect of the entertainment industry is thoroughly examined in this hilarious and comprehensive look at life as a professional actor in Hollywood.
Review:
This is one of those books I had to look at in my Audible account and wonder how I ended up with it. I mean, I know I won it through a Dab of Darkness blog giveaway. But what was I thinking to even enter? I have almost debilitating stage fright. The thought of becoming an actor is tantamount to hell for me. So, how did I end up listening to the story of a 50-year-old veteran actor's move to Los Angelous to pursue his acting career? Honestly, I'm not even sure.
But surprisingly enough, I found it interesting. Interesting in a detached, 'I have NO INTEREST in doing that' sort of way. But interesting all the same; kind of a 'how the other half lives' experience. The other half being people who don't pee themselves at the thought of standing in front of a crowd.
Theis has a self-deprecating humor that I appreciated and I found myself invested in his journey. I also found myself shocked at how many people he knows. At one point he had a chapter dedicated to how many people took him out to lunch during his 3 months in LA. I'm not being facetious when I say, I literally don't think I even know that many people!
Not only am I not interested in acting. Prior to listening to this, I'd of told you I'm not remotely interested in LA. Big cities? No thank you. But all the history was fun. Again Theis made it so.
All in all, you might not be surprised to find that I liked this a lot more than I thought I would. Even my hesitancy to listen to an audiobook narrated by the author himself proved unfounded. Theis spoke a bit too fast for my liking, especially in the beginning (which I listened to at .75 speed, which I hate doing), but it eventually slowed down and I enjoyed his banter-like narration. Invading Nirvana was a surprise win for me.