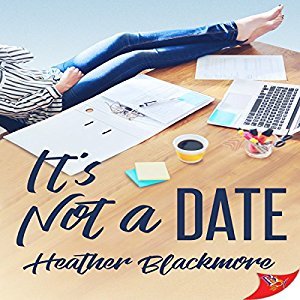 I received an Audible code of Heather Blackmore's It's Not a Date
from the narrator, Lori Prince, for a review copy of this book.
Description from Goodreads:
Falling in love is the hardest business of all.
Entrepreneur and innovator Kadrienne Davenport gets results. A demanding executive and stickler for punctuality, Kade throws herself into work to avoid hurting anyone, convinced she only causes pain to those she loves.
When Jennifer Spencer meets an incognito Kade at a conference, sparks fly. But when Kade unexpectedly becomes her boss, Jen's problems multiply. The company she founded is going broke, her grandmother's dementia is worsening, and her attraction to Kade―her difficult, brilliant, charismatic mentor―is growing.
Kade's desire to keep things professional between them is in Jen's best interest. Yet what's in Kade's best interest…is Jen.
Review:
I finished this days ago and forgot to write the review. If I'm honest, that tells you about how much impact it made on me. It wasn't bad, so much as just flat. I never bought into Kadrienne's reasons for refusing a relationship and frankly thought the "you should forgive your abusive parent" plotline gag-worthy. Because, I don't honestly think people who have hurt you repeatedly deserve to be given a chance to do it again, just because they suddenly need you. I listened to the Audible version and Lori Prince made the experience worth while though.