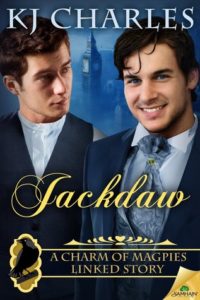 I bought a copy of Jackdaw, by K. J. Charles.
Description from Goodreads:
Jonah Pastern is a magician, a liar, a windwalker, a professional thief…and for six months, he was the love of police constable Ben Spenser's life. Until his betrayal left Ben jailed, ruined, alone, and looking for revenge.
Ben is determined to make Jonah pay. But he can't seem to forget what they once shared, and Jonah refuses to let him. Soon Ben is entangled in Jonah's chaotic existence all over again, and they're running together—from the police, the justiciary, and some dangerous people with a lethal grudge against them.
Threatened on all sides by betrayals, secrets, and the laws of the land, can they find a way to live and love before the past catches up with them?
Review:
Charles is one of those authors I pull out when I need a guaranteed win, and I wasn't let down with Jackdaw. In the beginning there was a moment when I wasn't sure. I didn't think I could overcome the horrors that Jonah's actions had caused Ben, but Charles got me there in the end. Not because Jonah had a good enough excuse, but because his love and contrition was so obvious.
It was also interesting to see Lucien and Stephen, the heroes of the previous Magpie books, presented as villains, at least initially. When you read several hundred books a year it's always nice to find something unusual in a book/series.
As always, the writing was superb, plotting and pacing exact, editing clean and characters fully fleshed. It doesn't even matter that I found the final climax predictable. I still loved it I'm looking forward to more books in this series. (Please, let there be more.)