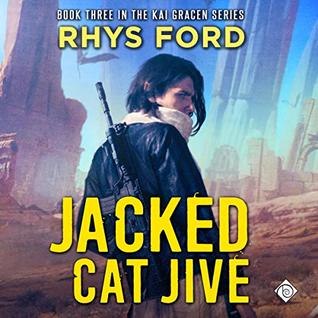 I borrowed an audio copy of Jacked Cat Jive, by Rhys Ford, through Hoopla.
Description from Goodreads:
Stalker Kai Gracen knew his human upbringing would eventually clash with his elfin heritage, but not so soon. Between Ryder, a pain-in-his-neck Sidhe Lord coaxing him to join San Diego's Southern Rise Court, and picking up bounties for SoCalGov, he has more than enough to deal with. With his loyalties divided between the humans who raised him and the Sidhe Lord he's befriended and sworn to protect, Kai finds himself standing at a crossroads.
When a friend begs Kai to rescue a small group of elfin refugees fleeing the Dusk Court, he's pulled into a dangerous mission with Ryder through San Diego's understreets and the wilderness beyond. Things go from bad to downright treacherous when Kerrick, Ryder's cousin, insists on joining them, staking a claim on Southern Rise and Kai.
Burdened by his painful past, Kai must stand with Ryder against Kerrick while facing down the very Court he fears and loathes. Dying while on a run is expected for a Stalker, but Kai wonders if embracing his elfin blood also means losing his heart, soul, and humanity along the way.
Review:
I gave the first two books in this series four stars, but I just can't this one. While I still thought Kai was a fun character and the banter was there, I felt like the book didn't accomplish anything. There didn't seem to be any real plot. Yes, they were going to rescue the children. But mostly they got in a transport vehicle and then reacted to everything that jumped at them. And a lot of things predictably jumped at them. That seemed to be most of the book, Kai fighting one monster after another. There was a random sweet moment with the dying adoptive father, that then didn't go anywhere. And the book ended where I would have preferred it began. Greg Tremblay did a good job with the narration though.
On a side note, I picked this up while browsing Hoopla looking for something to read. When I saw it, I thought, "I liked the first books. Sure, I'll listen to that." It wasn't until near the end of the book that I remembered the author is being a bit of a prat on social media about Dreamspinner not paying a lot of its authors, translators, artists, etc. I probably wouldn't have listened to the book if I'd remembered that at the time I borrowed it, or at least not listened to it right now.