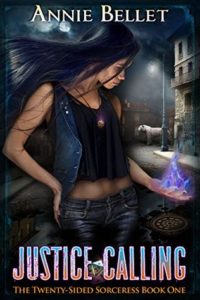 I picked Justice Calling (by Annie Bellet) up as a freebie at Amazon. It was still free at the time of posting.
Description from Goodreads:
Gamer. Nerd. Sorceress. 
Jade Crow lives a quiet life running her comic book and game store in Wylde, Idaho. After twenty-five years fleeing from a powerful sorcerer who wants to eat her heart and take her powers, quiet suits her just fine. Surrounded by friends who are even less human than she is, Jade figures she's finally safe. 
As long as she doesn't use her magic. 
When dark powers threaten her friends' lives, a sexy shape-shifter enforcer shows up. He's the shifter world's judge, jury, and executioner rolled into one, and he thinks Jade is to blame. To clear her name, save her friends, and stop the villain, she'll have to use her wits… and her sorceress powers. 
Except Jade knows that as soon as she does, a far deadlier nemesis awaits.
Review:
While there is nothing new here, it's entertaining enough. I think I'd have preferred to see it bulked into a full novel, instead a novella, in order to allow for more plot and character development. But it was at least a full story arc, with a beginning, middle and end. Yay and thank bloody god for that. I liked what I knew of the characters and, though the plot wasn't really given the time to deepen, it's not so rushed as to be unenjoyable. I'd read more of the series.