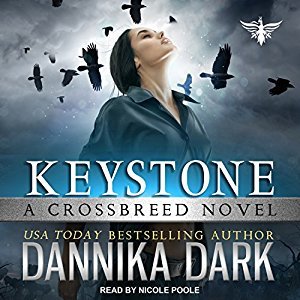 I borrowed an audio copy of Dannika Dark's Keystone through Hoopla.
Description from Goodreads:
Raven Black hunts evildoers for fun, but her vigilante justice isn't the only reason she's hiding from the law. Half Vampire, half Mage, she's spent years living as a rogue to stay alive. When a Russian Shifter offers her a job in his covert organization hunting outlaws, dignity and a respectable career are finally within her grasp. The catch? Her new partner is Christian Poe – a smug, handsome Vampire whom she'd rather stake than go on a stakeout with.
They're hot on the trail of a human killer who will stop at nothing to get what he wants. One misstep during her probationary period could jeopardize Raven's chance at redemption, and her partner would love nothing more than to see her fail. Will Raven find the courage to succeed, or will she give in to her dark nature?
Review:
This pretty seriously didn't work for me. I thought the mechanical writing was fine, but I thought Raven didn't live up to her hype. She's said to be some special killer, but she doesn't win a single on-page fight, has to be rescued repeatedly, and even says she can't fight well. How did she kill so many bad guys? She flirted and tempted them into alleys and bathrooms to surprise them with her crossbreed status. Really? That's it? No thank you.
Additionally, Raven ran off and had more than one too-stupid-to-live and I thought the main male character was just a jerk. All of his sexual innuendo got old and felt like the author trying too hard to be clever. Crossbreeds aren't supposed to exist and how she does is never addressed. And I didn't really believe people would put the trust in her the way they did.
All in all, I didn't like it all that much. What's more, I thought Nicole Poole's narration was inconsistent. The actual narrative parts were fine, but the accents sometimes made me cringe.