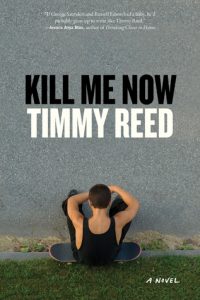 I won a copy of Timmy Reed's Kill Me Now
though Goodreads.
Goodreads:
Miles Lover is an imaginative but insecure adolescent skateboarder with an unfortunate nickname, about to face his first semester of high school in the fall. In Kill Me Now, Miles exists in a liminal space―between junior high and high school, and between three houses: his mother's, his father's, and the now vacant house his family used to call home in a leafy, green neighborhood of north Baltimore. Miles struggles against his parents, his younger identical twin sisters, his probation officer, his old friends, his summer reading list, and his personal essay assignment (having to keep a journal). More than anything, though, he wrestles with himself and the fears that come with growing up.
It's not until Miles begins a mutually beneficial friendship with a new elderly neighbor―whom his sisters spy on and suspect of murder―that he begins to find some understanding of lives different than his own, of the plain acceptance of true friends, and, maybe, just a little of himself in time to start a whole new year. When you're green, you grow, he learns. But when you're ripe, you rot.
Review:
Being a 14-year-old boy must suck. Being a 14-year-old girl had it's challenges, being 14 in general does, but being a 14-year-old boy sounds like the pits. Such were my thoughts while reading Kill Me Now.
I liked this more than I expected. It reminded me A LOT of The Perks of Being a Wallflower. Though TPoBaWF has a certain gentleness that this lacks, there are a lot of similarities. Miles Lover isn't quite as cerebral as Charlie Scorsoni, but he engages in  the same kind of stream of consciousness writing to an unknown reader. He is the same kind of socially awkward that leaves you wondering if he's on the spectrum somewhere. And Kill Me Now puts a 14-year-old, not a child/not an adult into the same situations that people (and therefore their media) pretends they don't engage in—drugs, alcohol, sex, casual cruelty, etc. And like The Perks of Being a Wallflower this challenging of the national script is what I appreciated most about the book. Because I have never known youths to be as pure as people like to insist they are.
I was uncomfortable with the casual racism, repeated use of Retard as a nickname, and the overt sexualization of prepubescent girls. (This one bothered me a lot more than the 14-year-old giving Miles a BJ or the rumors that his 13-year-old sisters had done the same to someone else.) I understand Reed probably included these for a reason. But I don't know what it was. To showcase the poor decision-making of Miles and his friends, teens in general, maybe?
All in all, I think if you liked Chbosky's wallflower, you'll like this grittier version of the same idea. But if you didn't like The Perks of Being a Wallflower, I feel confident saying you won't like Kill Me Now either.