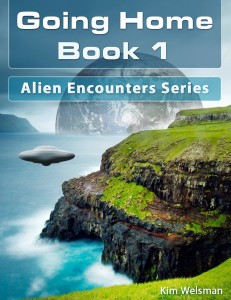 Author, Kim Welsman sent me an ecopy of her sci-fi novel, Going Home (The Alien Encounters, #1).
Description from Goodreads:
Going Home is Book One in the Alien Encounters Series, a new adult supernatural fantasy set in a dystopian future for women of all ages, but recommended for those over 16.
Lyrissa is a woman on a mission with a haunted past. Peggy is a woman in a new world on a quest. The Agency and the Guard both want Peggy. Will Lyrissa help the Queen and the Guard for a healthy sum or will she find the courage to let Peggy leave so they can both go home?
Go on a psychic inner and outer journey with Lyrissa and find out if she goes home!
Review:
This story has a marvelous moral/societal/cultural message. As a fairly devout feminist, I MUST approve. Having said that, I think it lacks a little in its delivery. And I don't just mean because of the minor editing mistakes (mostly missing words and a questionable lack of commas). I can easily overlook that.
What I'm referring to is the somewhat rushed presentation. The story very quickly leaps from event to event, back and forwards in time. It also tells the reader quite a lot about the social ills of society, most notably gender inequalities, but the reader never sees them. Nor does the reader see much of the characters' pasts, even when it is haunting them in increasingly detrimental ways. This all left me feeling a little confused as I was jettisoned through the story. I really needed it to slow down and flesh itself out in order for me to really grasp the importance of what was happening and the meaningful message it was trying to impart.
Despite their shallow description I did like many of the main characters. I just didn't know them very well. And I did enjoy the story, even as I was piecing it together. It isn't flawless, but for a quick read it's worth picking up.