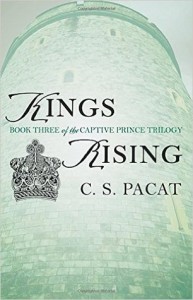 I borrowed Kings Rising (C.S. Pacat) from my local library.
Description from Goodreads:
His identity now revealed, Damen must face his master Prince Laurent as Damianos of Akielos, the man Laurent has sworn to kill.
On the brink of a momentous battle, the future of both their countries hangs in the balance. In the south, Kastor's forces are massing. In the north, the Regent's armies are mobilising for war. Damen's only hope of reclaiming his throne is to fight together with Laurent against their usurpers.
Forced into an uneasy alliance the two princes journey deep into Akielos, where they face their most dangerous opposition yet. But even if the fragile trust they have built survives the revelation of Damen's identity – can it stand against the Regent's final, deadly play for the throne?
Review:
This was good and if I wasn't comparing it to the first two I might have ended it happier than I did. I did not feel it was as tightly plotted as the previous ones, especially the second, and I felt…I felt what I think is the hand of the big, traditional publishing house in it. For example, one of the things Pacat was criticized for in the first novels was not critically engaging with the subject of slavery and in this one she went to great and I thought artificial lengths to say slavery is bad. Of course it is, but the world as developed and the story as progressing did not often lend itself to changes of opinion on the matter. It felt like a concession to make the world more palatable to a wider. And to a large degree I felt this in the whole tone of the novel, like someone had polished the edges off, where it had been those contours I most appreciated in the previous books.
There were also just too many convenient occurrences that saved lives and last minute remembrances or mysteries figured out, such that matters basically resolved themselves. So, I end this novel torn between still enjoying it (I still love the characters and there is some genuine humor in it) and being a bit disappointed that it didn't stand up to expectations.
Reviews of Captive Prince & Prince's Gambits