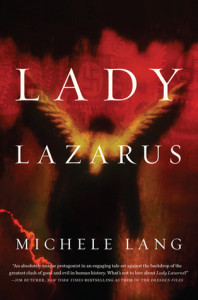 I borrowed Lady Lazarus, by Michelle Lang, from my local library.
Description from Goodreads:
Descended from the legendary witch of Ein Dor, she alone holds the power to summon the angel Raziel and stop Hitler and his supernatural minions from unleashing total war in Europe. The Nazis have fighters more fearsome than soldiers, weapons more terrifying than missiles, and allies that even they are afraid of SS werewolves; the demon Asmodel who possesses a willing Adolf Hitler, and other supernatural creatures all are literally hell-bent on preventing Magda from possessing the Book of Raziel, a magical text with the power to turn the tide against Hitler's vast war machine.
Magda, young and rebellious, grew up in the cosmopolitan city of Budapest, unaware of her family's heritage. When her mother dies, Magda–ready or not–is the Lazarus, who must face the evil that holds Europe in an iron grip. Unready to assume the mantle of her ancient birthright, but knowing that she must fight, she sets out across Europe searching for the Book. Magda is desperate enough to endanger her soul by summoning the avenging angel Raziel.  When she sees him in the glory of his celestial presence, her heart is utterly, completely lost..
Review:
There was so much to like about this book, the Jewish heroine, the platonic love between Magda and her angel (at least in the period of the book), the difficulty of the angels' task, the best friend who I decided was her lover, the cyclone-like battles between good and evil that feel like the centre of the world only until you remember the big bad is still lurking out there waiting to pounce (reminding the reader about the importance of perspective), some of the writing (all is pretty good, but some passages really wow), and Magda's genuine and undeniable growth as a character. There is a lot to appreciate. But there was just as much that bothered me personally.
I got tired of Magda being clueless of everything. Why, oh why, are heroines always ignorant of themselves, their power, their ability, their strengths? I am just tire, TIRED of this being the kernel at the centre of just about every book I read that has a female lead. Why?
I thought the book dragged in places. The reader spends a lot of time in Magda's head or traveling. After being clueless and not knowing what to do Magda always seemed to defeat her enemy with ease and I was never entirely sure how she managed it. This feeling of ho-hum another one done is only exasperated by the fact that the book ends on the eve of Hitler's attack on Poland, so the whole thing kind of wraps up where I thought it was going to begin. And lastly, I thought there were an uncomfortable number of characters that showed up when needed and then just disappeared again.
So, I'm about balanced between those things I really liked and those things that annoyed me.