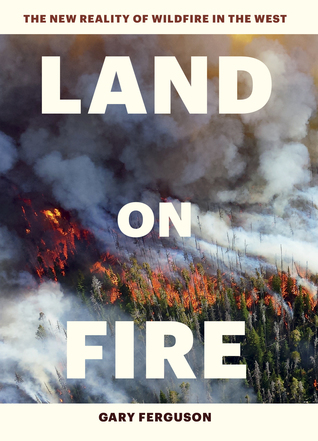 I won an ARC of Land on Fire, by Gary Ferguson, quite some time ago. It's languished on my shelf ever since. But I finally read it.
Description from Goodreads:
Wildfire season is burning longer and hotter, affecting more and more people, especially in the west. Land on Fire explores the fascinating science behind this phenomenon and the ongoing research to find a solution. This gripping narrative details how years of fire suppression and chronic drought have combined to make the situation so dire. Award-winning nature writer Gary Ferguson brings to life the extraordinary efforts of those responsible for fighting wildfires, and deftly explains how nature reacts in the aftermath of flames. Dramatic photographs reveal the terror and beauty of fire, as well as the staggering effect it has on the landscape.
Review:
I thought this was a pretty informative introduction to fighting modern forest fires. I certainly learned a lot that I didn't previously know; but I think the book is best suited to people like me. If you had any substantial knowledge going in, I don't know that it would add much. I wouldn't call this a research text.
I appreciated that Ferguson didn't refer to all his hypothetical fire fighters as male (it's the little things that make a difference sometimes) and the book is quite readable, with a lot of pictures to help visualize the subject matter. Further, while I expected the answer to the posed question of 'Why are fires getting bigger, hotter and more frequent?' to be 'climate change,' it was a lot more nuanced than I expected (even if climate change was a large part of it).
I did notice that a lot of the quotes are from the same few people, much of the researched cited comes from the same few institutions (there apparently aren't a lot funded to study fire), and there are fairly few citations (less than 10 for most chapters and many of those from online). So, it felt like the knowledge pool tapped was fairly shallow. But again, for an introduction to the subject, intended for lay people, I think it's worth picking up.