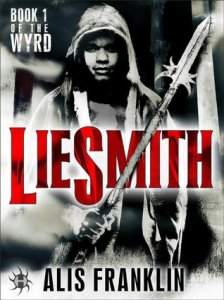 I was granted a copy of Alis Franklin's LieSmith from Netgalley.
Description from Goodreads:
Working in low-level IT support for a company that's the toast of the tech world, Sigmund Sussman finds himself content, if not particularly inspired. As compensation for telling people to restart their computer a few times a day, Sigmund earns enough disposable income to gorge on comics and has plenty of free time to devote to his gaming group.
 
Then in walks the new guy with the unpronounceable last name who immediately becomes IT's most popular team member. Lain Laufeyjarson is charming and good-looking, with a story for any occasion; shy, awkward Sigmund is none of those things, which is why he finds it odd when Lain flirts with him. But Lain seems cool, even if he's a little different—though Sigmund never suspects just how different he could be. After all, who would expect a Norse god to be doing server reboots?
 
As Sigmund gets to know his mysterious new boyfriend, fate—in the form of an ancient force known as the Wyrd—begins to reveal the threads that weave their lives together. Sigmund doesn't have the first clue where this adventure will take him, but as Lain says, only fools mess with the Wyrd. Why? Because the Wyrd messes back.
Review:
I thought that this was quite clever. That alone would be enough for me. But paired with how darned CUTE Sigmund was, makes it's a real winner for me. I just wanted to grab all his über-geeky, low self-esteem (what he would call realistic self-appraisal), hipster envy, good boyness and hug it and love it and call it George. I adored him. Plus, he's a not a cookie-cutter, Ken-shaped, white main character. He's plump and dark. Maybe with some Maori ancestry, but that's never clarified. I loved it, even more since this was played all sorts of cool, as if it wasn't some rare gem to be treasured when found in a book.
The story itself is quite convoluted and, honestly, readers would be well served to have at least a basic understanding of Norse mythology. I'm not saying that it's not understandable if you don't, but I think it will be more enjoyable if you do. But beyond the story of the machinations of the gods there is a lot to enjoy here. The romance is slow and sweet. It never progresses beyond a kiss, but it's obvious the end goal is love not lust. *sigh* And there is just tons and tons of Gamer/Trekkie/Trekker/Ringer/comic book/Star Wars/DnD/etc nerddom to revel in. It's glorious in its own way, but not over-played. Plus, Sigmund is never disparaged for his interests. In fact, he's quite comfortable in who and what he is.
With the tangled plot, I did find it a little hard to keep up with on occasion, it seemed to slow down and drag for a while in the Helbleed, friends accepted the impossible with aplomb, and the ending is left a little 'we'll figure it out eventually' open. But for the most part I found this a really enjoyable read.