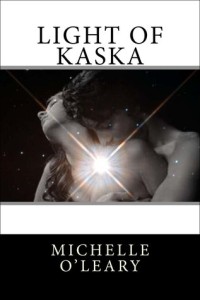 Despite its horrible cover, I downloaded a copy of Michelle O'Leary's Light of Kaska from the Amazon free list.
Description from Goodreads:
Escaped convict Chase Stryker is on the run from the Collectors, an agency that tracks down criminals and brings them to justice. Hiding on a drowsy farming planet seems ideal, but murder and mayhem follow him wherever he goes—in an ironic twist of fate, he's blamed for a murder he didn't commit and sentenced to death by flame without a trial. Rescue comes in the form of Sukeza bet Marish, an unlikely champion whose unassuming, fearful exterior inspires his contempt. But there's more to his little rescuer than meets the eye, starting with the fact that she's not part of the farming community and the secret they'd kill to protect. His reluctant fascination begins when he discovers that she smells like sunshine, tastes like nectar, and can offer him everything he never knew he needed.
Review:
Very middle of the road read, for me. It has good points and bad. On the good side are some interesting side characters, a sexy alpha hero, a HEA, older main characters (40ish maybe), and some really cute scenes when Chase basically freaks out over finding himself the recipient of kindness. The writing was also fine and the editing wasn't too mistake laden.
On the bad side was some major repetition. Apparently, Sukeza is small and Chase is big. This fact is reiterated about a bagazillion times. Apparently, little bitty Sukeza can't imagine a big, dangerous, predator-type man would be interested in her and big, dangerous Chase can't imagine a skittish slip of a woman would look twice at him. Again, we're told this about a million times.
The romantic plot line is stretched far beyond reasonable limits based on nothing more than misunderstandings, jumped to conclusions and refusal to communicate. This is frustrating and unpleasant. Plus, all the sex scenes were about as effective as a snapped rubber-band, as Chase pulled away, away, away and then gave in and pounced back, again and again.
Sukeza's character is inconsistent. Roughly halfway through the book she has a personality 180. The author tries to explain it away by saying it's because she's come home, but it doesn't work. The her at the end is irreconcilable with her at the beginning.
The book is too long. The first half of the book feels very disconnected from the storyline of the second half of the book and there is a large lagging bit in the middle, where Chase and Sukeza aren't even together. It's essentially useless to the rest of the book. Though, to be fair, Harle and Chase's bromance is BY FAR my favorite part of the book.
So, in the end I'm calling this ok, but not great, with the caveat that the beginning is better than the end.
Best scene in the book: when a chained up, intimidating Chase is forced to ask Suzeka, with complete incredulity, "Are you petting me?"