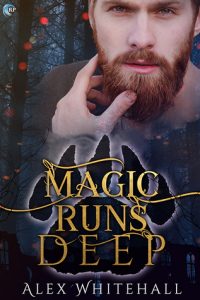 I received a copy of Alex Whitehall's Magic Runs Deep
through Netgalley.
Description from Goodreads:
For the last five years, Veier has been chained to a king's throne in his bear form. When a neighboring kingdom overthrows the crown, Veier's imprisonment ends, but true freedom is not so easily earned. With blood on his hands, he needs someone with patience, strength, and trust to help him become the person he was before and prove to the invaders that he isn't the monstrous king's loyal pet.
Elrid, the invading king's brother and a powerful mage, is everything Veier despises. He's also the only thing between Veier and execution, because he thinks he can help Veier change from an aggressive bear shifter into a reasonable man. While the pair have a rough start, with long talks and mutual leaps of faith, they begin to care for each other.
However, the closer Veier gets to his freedom, the closer he is to losing Elrid. He must find balance in his heart and his life if he wishes to truly claim the freedom he's been given—and the man he loves.
Review:
I think it was me. I've read books like this before and been ok with the plot. But this time I just wasn't able to overlook how quickly Veier got over five years of enslavement, physical, mental and sexual abuse (the last being implied) when it came to Elrid. They were just instantly civil with one another, trust bloomed in no time and almost instantly Veier and Elrid were comfortable with one another. It was too much too fast, and instead of reading as building trust and Elrid being a nice person, it just read as Mary-Sue, bland. I was frankly bored for most of the book, absolutely all of the book in which I wasn't too busy being utterly incredulous.
Having said all that, the writing is fine and any editing issues I noted were few and far between, and probably due to the fact that I was reading an ARC. Thus, my assertion that I this case, "it's me, not you," might account for my dislike of the book.