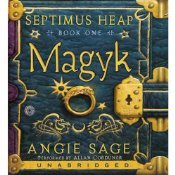 I borrowed a copy of Magyk: Septimus Heap
, by Angie Sage from my local library.
Description from Goodreads:
Enter the world of Septimus Heap, Wizard Apprentice. Magyk is his destiny.
A powerful necromancer plans to seize control of all things Magykal. He has killed the Queen and locked up the Extraordinary Wizard. Now with Darke Magyk he will create a world filled with Darke creatures. But the Necromancer made one mistake. A vital detail he has overlooked means there is a boy who can stop him – the only problem is, the boy doesn't know it yet.
For the Heap family, life as they know is about to change, and the most fantastically fast-paced adventure of confused identities, magyk and mayhem, begin.
Review:
I am not the intended audience for this book, being far too old. But I rented it to listen to with my 10yo, on a car trip. She quite enjoyed it. I didn't dislike it, but didn't fall in love either. While I was entertained, I also found the whole thing obvious and flat.
I've seen a somewhat convincing argument that the whole thing is meant to be a Christian parable. I'd never of made the connection on my own (Christian parables seriously not being my thing), but once pointed out, I could see where the reviewer got the idea. If you're looking for that in a middle grade book, pick this one up. Maybe reading it from that perspective will give the narrative the oooh I felt tit lacked.
All in all, not bad, entertaining in a youthful sort of way. But lacking in enough depth to make me love it. It's no Harry Potter, that's for sure, though likely aimed at part of the same demographic.
Allan Corduner did a marvelous job with the audiobook narration though.