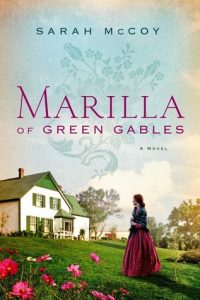 I won a copy of Sarah McCoy's Marilla of Green Gables through Goodreads. I then took it to book club with me and the group chose it as our November book.
Description:
Plucky and ambitious, Marilla Cuthbert is thirteen years old when her world is turned upside down. Her beloved mother has dies in childbirth, and Marilla suddenly must bear the responsibilities of a farm wife: cooking, sewing, keeping house, and overseeing the day-to-day life of Green Gables with her brother, Matthew and father, Hugh.
In Avonlea—a small, tight-knit farming town on a remote island—life holds few options for farm girls. Her one connection to the wider world is Aunt Elizabeth "Izzy" Johnson, her mother's sister, who managed to escape from Avonlea to the bustling city of St. Catharines. An opinionated spinster, Aunt Izzy's talent as a seamstress has allowed her to build a thriving business and make her own way in the world.
Emboldened by her aunt, Marilla dares to venture beyond the safety of Green Gables and discovers new friends and new opportunities. Joining the Ladies Aid Society, she raises funds for an orphanage run by the Sisters of Charity in nearby Nova Scotia that secretly serves as a way station for runaway slaves from America. Her budding romance with John Blythe, the charming son of a neighbor, offers her a possibility of future happiness—Marilla is in no rush to trade one farm life for another. She soon finds herself caught up in the dangerous work of politics, and abolition—jeopardizing all she cherishes, including her bond with her dearest John Blythe. Now Marilla must face a reckoning between her dreams of making a difference in the wider world and the small-town reality of life at Green Gables.
Review:
I devoured this, but had a mixed reaction to it. I loved Anne of Green Gables when I read it as a teen. It would be difficult for this book to compare. I admit that up front. Having said that, I think that if I hadn't been invested in Mathew and Marilla from their association to Anne, I'd have been bored to tears by this book. As it was, I appreciated the stellar writing and thought McCoy gave Marilla an unexpected history, but never truly lost myself in it.
Mathew and Marilla are quite characters. That's established canon. They feel deeply, but express little. And essentially that's where this fell down for me. This book follows 40 or so years of Marilla's life and we finish the book not really knowing anything more about her than when we started. She's emotionally stunted and unwilling to go after what she wants. Does she do something heroic once in her life? Sure, but mostly that's just arranging for someone else to do all the work. I suppose I had hoped for a bit more than 300 pages of Marilla's stoic navel gazing.
I rated it highly though, because disappointed in it or not, it's beautifully written.