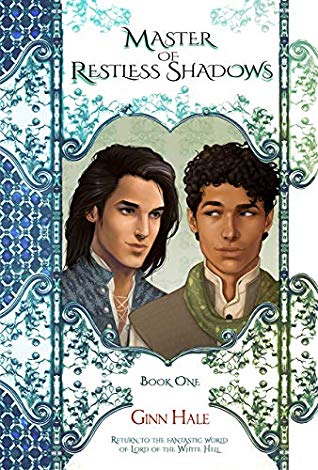 I received an copy of Master of Restless Shadows, by Ginn Hale, through Netgalley.
Description from Goodreads:
Freshly graduated Master Physician Narsi Lif-Tahm has left his home in Anacleto and journeyed to the imposing royal capitol of Cieloalta intent upon keeping the youthful oath he made to a troubled writer. But in the decade since Narsi gave his pledge, Atreau Vediya, has grown from an anonymous delinquent to a man renowned for penning bawdy operas and engaging in scandalous affairs. 
What Narsi―and most of the larger world―cannot know is the secret role Atreau plays as spymaster for the Duke of Rauma. 
After the Cadeleonian royal bishop launches an unprovoked attack against the witches in neighboring Labara, Atreau will require every resource he can lay his hands upon to avert a war. A physician is exactly what he needs. But with a relentless assassin hunting the city and ancient magic waking, Atreau fears that his actions could cost more than his own honor. The price of peace could be his friends' lives. 

Review:
I'm really torn about how to review this book. I finished it really enjoying it and wanting to know more about what happens. But I didn't really start to feel that way until about 75% into the book. And I've read BOTH of the duologies that precede it. The problem is that I haven't read them recently and this book didn't give me enough recap to remember the kind of small details it requires to really feel invested in the plot, and the first 3/4 of the book depends on those previous books. If you have not read the Lord of the White Hell and Champion of the Scarlet Wolf series (and read them recently) I would strongly discourage you from picking this one up. Because, as I said, even having read them I felt like I was fumbling along. 
Having said all of that, I did enjoy Hale's writing style. I was rooting for both of the romantic pairings (the secondary one especially), though romance is definitely not the plot's primary focus. And I do still appreciate the world Hale has created here.
No doubt I will pick the next book up. I was just a bit disappointed to not love this one more.