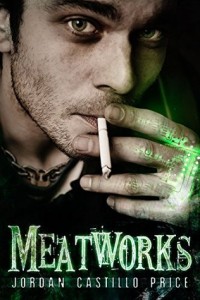 I took a chance and marked Jordan Castillo Price's Meatworks as a suggested purchase for my library, low and behold, they actually bought it. So, I borrowed the copy. Thank you library! I've wanted to read this one for a while.
Description from Goodreads:
Desmond Poole is damaged in more ways than one. If he was an underachiever before, he's entirely useless now that he's lost his right hand. He spends his time drowning his sorrows in vodka while he deliberately blows off the training that would help him master his new prosthetic. Social Services seems determined to try and stop him from wallowing in his own filth, so he's forced to attend an amputee support group. He expects nothing more than stale cookies, tepid decaf and a bunch of self-pitying sob stories, so he's blindsided when a fellow amputee catches his eye. 
Corey Steiner is a hot young rudeboy who works his robotic limb like an extension of his own body, and he's smitten by Desmond's crusty punk rock charm from the get-go. Unfortunately, Desmond hasn't quite severed ties with his ex-boyfriend, and Corey isn't known for his maturity or patience. 
Meatworks is set in a bleak near-future where cell phone and personal computer technologies never developed. In their place, robotics flourished. Now robots run everything from cars to coffee pots. Taking the guesswork out of menial tasks was intended to create leisure time, but instead robots have made society dependent and passive. 
Desmond loathes robots and goes out of his way to avoid them. But can he survive without the robotic arm strapped to the end of his stump?
Review
Oh man, some serious mixed feelings on this one, but I loved it overall. I thought it was marvelously written, with vivid, gritty characters and identifiable character growth that never, ever got sappy. Plus, the alternative present was interesting. It really made me stop and think about how easily computers could creep into our lives in insidious and destructive ways.
I can't say it all worked out the way I would have liked. I was sorely disappointed in Jim's dismissal and Desmond sure isn't a likable character (I honestly don't think he earned or deserved his happily ever. I'm glad he got it though.), but that's kind of his defining characteristic and I so appreciated that. All in all, I really glad to have read Meatworks and will be greedily looking to snag more JCP books in the near future.