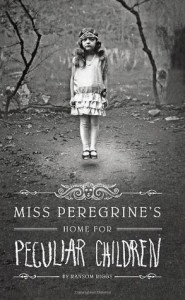 I borrowed a copy of Miss Peregrine's Home for Peculiar Children (by Ransom Riggs) from my local library.
Description from Goodreads:
A mysterious island. An abandoned orphanage. A strange collection of curious photographs.
A horrific family tragedy sets sixteen-year-old Jacob journeying to a remote island off the coast of Wales, where he discovers the crumbling ruins of Miss Peregrine's Home for Peculiar Children. As Jacob explores its abandoned bedrooms and hallways, it becomes clear that the children were more than just peculiar. They may have been dangerous. They may have been quarantined on a deserted island for good reason. And somehow—impossible though it seems—they may still be alive.
Review:
This book has been on my TBR list for a long time, so I'm thrilled to have finally read it. Unfortunately, I wasn't wholly thrilled with the book itself. I liked it, but that's about it. I thought it started off really well with its introduction to the self-absorbed, wealthy Jacob, his 'other side of the tracks' best friend and eccentric grandfather but kind of just petered out to unexceptional by the end of the book.
The romantic element seemed to come out of nowhere and felt awkward and unsupported. All but one character from the beginning of the book is abandoned and never seen again. Defeating the immediate foe felt almost accidental and, of course, since it's a first in a series, it was essentially meaningless to the bigger picture.
I did like some of the characters and occasionally a passage would really strike me as well written, but only occasionally. For the most part it felt a little choppy, like each scene didn't quite fit together as a smooth flowing whole. I'm happy to have read it, but I'm not rushing out for the sequel.