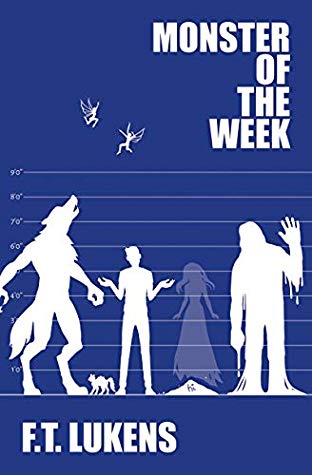 I received an advanced copy of F. T. Lukens' Monster of the Week through Netgalley. As it happens, I've also pre-ordered a paperback copy. But I won't have that in hand until October.
Description from Goodreads:
Spring semester of Bridger Whitt's senior year of high school is looking great. He has the perfect boyfriend, a stellar best friend, and an acceptance letter to college. He also has this incredible job as an assistant to Pavel Chudinov, an intermediary tasked with helping cryptids navigate the modern world. His days are filled with kisses, laughs, pixies, and the occasional unicorn. Life is awesome. But as graduation draws near, Bridger's perfect life begins to unravel. Uncertainties about his future surface, his estranged dad shows up out of nowhere, and, perhaps worst of all, a monster-hunting television show arrives in town to investigate the series of strange events from last fall. The show's intrepid host will not be deterred, and Bridger finds himself trapped in a game of cat and mouse that could very well put the myth world at risk. Again.
Review (with spoiler):
I generally adore this series. I absolutely loved the first book. I can't say I loved this second one quite as much, but I did really enjoy it. I'll start with what I like. There is a lot of love here. Bridger has a wonderfully supportive crew and the theme of Found Family is a wonderful one. The cast of regular characters are quirky and fun and effortlessly diverse. And I really appreciated that Lukens allowed Bridger to cut the toxic family member from his life, rather than force an artificial reconciliation.
Things I didn't like as much was the plot dependance on the ambitious, 'evil professional woman.' It's more nuanced than that here, but it's still a pretty shitty trope that I hate. I thought things got a little didactic at times. And the focus of the book was less on the action and antics of the cryptic, here in Monster of the Week, and more on Bridger's school life. I preferred the former.
All in all, I can't wait for more of Lukens' work.