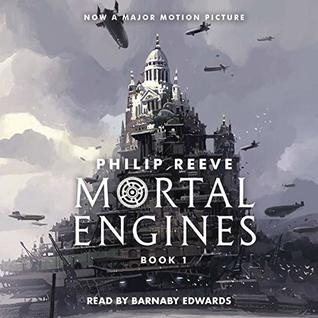 I borrowed an audio copy of Philip Reeve's Mortal Engines through the library.
Description from Goodreads:
London is a city on wheels – a future city like you've never known before. In the terrible aftermath of the Sixty Minute War, cities which survived the apocalypse became predators, chasing and feeding on smaller towns. Now London is hunting down its prey, getting ready to feed. But as the chase begins, Tom uncovers a secret – a secret full of deadly consequences. Soon he is plunged into a world of unkillable enemies, threatened by a weapon that will tear his life apart…
Review (with spoiler):
Ugh, a young, beautiful, innocent girl sacrifices herself for the sins of a man and all that can be saved are. The evil give up their dastardly ways, the vengeful forsake their life-long quest for revenge and the cowardly become brave. In her death she averts disaster and saves the masses. Welp, no one has ever seen that plot device before, surely. <<—sarcasm to the utmost. Nor have we seen lack of beauty equated with lack value or a boy shown as virtuous because he's willing to look past a physical deformity. Nope, never ever have we seen this. <<—more contemptuous sarcasm. 
I thought the world was interesting and the writing engaging, but the rest of it was just dull as dishwater. It's all been done before and I didn't like it anymore here than anywhere else. I don't intend to continue the series and, while I read the book in order to see the movie, I just don't think I can be bothered after all. Barnaby Edwards did a fine job with the narration though.