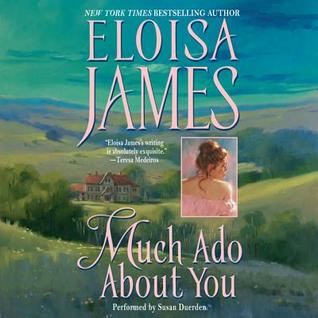 I won a paperback copy of Eloisa James' Much Ado About You. However, I chose to listen to it and borrowed an audio copy.
Description from Goodreads:
When you're the oldest daughter, you don't get to have any fun!
Witty, orphaned Tess Essex faces her duty: marry well and marry quickly, so she can arrange matches for her three sisters — beautiful Annabel, romantic Imogen and practical Josie. After all, right now they're under the rather awkward guardianship of the perpetually tipsy Duke of Holbrook. But just when she begins to think that all might end well, one of her sisters bolts with a horse-mad young lord, and her own fiancé just plain runs away.
Which leaves Tess contemplating marriage to the sort of man she wishes to avoid — one of London's most infamous rakes. Lucius Felton is a rogue whose own mother considers him irredeemable! He's delicious, Annabel points out. And he's rich, Josie notes. But although Tess finally consents to marry him, it may be for the worst reason of all. Absurd as she knows it to be, she may have fallen utterly in love . . . 
Review:
I have to be honest. I finished this by force of will alone. I didn't particularly care for it. The writing is wonderful (as is the narration), but the story itself irritated me. For over half the book I kept thinking, "This isn't a romance, it's just a book about being on the marriage market." Then, a dedicated bachelor suddenly and seemingly at random decided he was going to marry the main character and that was that. From there it's just filler and unnecessary drama that I read thinking, "Why hasn't this book ended yet?" I have the first couple books in this series, but Much Ado About You is the first book by James that I've read. I'm not really looking forward to more. Here's hoping the series improves.