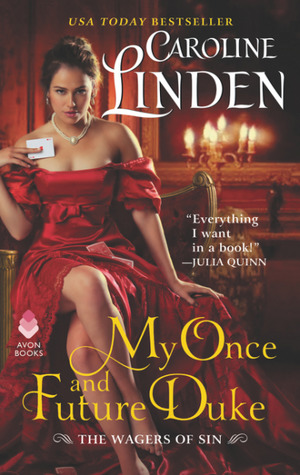 I won a copy of Caroline Linden's My Once and Future Duke through Goodreads.
Description:
What happens at the infamous Vega Club . . .
Sophie Campbell is determined to be mistress of her own fate. Surviving on her skill at cards, she never risks what she can't afford to lose. Yet when the Duke of Ware proposes a scandalous wager that's too extravagant to refuse, she can't resist. If she wins, she'll get five thousand pounds, enough to secure her independence forever.
Stays at the Vega Club . . .
Jack Lindeville, Duke of Ware, tells himself he's at the Vega Club merely to save his reckless brother from losing everything, but he knows it's a lie. He can't keep his eyes off Sophie, and to get her he breaks his ironclad rule against gambling. If he wins, he wants her–for a week.
Until now.
A week with Jack could ruin what's left of Sophie's reputation. It might even cost her her heart. But when it comes to love, all bets are off . . .
Review:
Having just finished My One and Only Duke, I figured I might as well stick with the ducal theme and read My Once and Future Duke next. When I cross-posted to Amazon/Goodreads, I gave both books three stars. But this is a good example of how inadequate that middle rating can be, because I like My One and Only Duke a lot more than My Once and Future Duke. There was simply more meat to it. But neither was good enough for a 4-star or bad enough for a 2-star.
I thought this book was perfectly adequate. The writing was sound and the characters unobjectionable. But it was a fairly one-dimensional story, focusing quite heavily on sex. Which is fine. I'm not complaining on that front. But I was a tad bored with the book, on the whole. All in all, this is one of those books you finish and go, "Meh." It wasn't great or horrid, but it passed the time pleasantly enough.