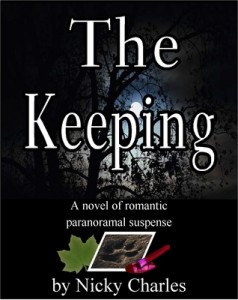 I quite enjoyed Nicky Charles' The Mating, so I grabbed the sequel The Keeping.
Description from Smashwords:
Ryne Taylor was a sexy bad-ass Alpha set on establishing a new pack. Melody Greene was a journalism student researching his work as a photographer—or so she said. But could Mel really be trusted or had she stumbled upon his secret? And if she knew, could Ryne save himself and the pack he'd left behind without enacting a deadly ancient law known as The Keeping? 
Review:
Charles has penned another zinger with The Keeping, sequel to The Mating. This one follows Zane's brother Ryne as he attempts to form his own pack in the wilds (or at least small town) of Canada and battle his dangerous attraction to Melody Greene, who inadvertently threatens everything he holds dear.
I enjoyed Ryne's internal power struggle with his inner wolf. [I know that sentence if a little redundant, but you know what I mean.] The wolf part of the human-wolf combination that makes a werewolf seems to have a more distinct influence on their people in this book than the first. He was of course dominant, arrogant, and dead sexy. It would be hard to complain about any of that. I did have a little trouble imagining him as a photographer. He didn't strike me as the artistic type, but oh well. Melody was spirited and showed enough back bone to make me like her, but not enough to become a bitch [pun intended]. Their virolent repartee was amusing and you couldn't help but root of them as a couple.
I liked the twist on Mr. Greyson as a likeable bad guy and the small reveal concerning the secretary at the end was subtle and well placed. It sent a shiver down my spine. I don't think we've seen the last of her yet. All-in-all I really enjoyed The Keeping and am working on Bonded as I write this. Nicky Charles is quickly becoming one of my new favourites and it never hurts that all of the Law of the Lycan books are free on Smashwords. Highly recommend picking them up.