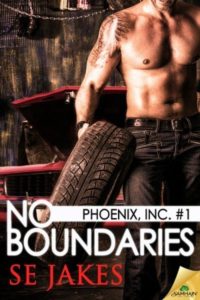 I purchased a copy of S. E. Jakes' No Boundaries.
Description from Goodreads:
When your past closes in, running isn't always an option.
The jobs Marcus Lowry works for at Phoenix, Inc. Investigations are quick and easy, and they don't give him the nightmares his days as a CIA operative did. That is, until he gets involved in a case that grabs him by the throat and won't let go.
Cole Jacobs left behind his old life on the streets to make a name for himself rebuilding high-end and vintage cars and bikes. But when a stalker threatens to kill him—and to hurt anyone who stands in his way—his past closes in on him, and he's not sure where to turn.
The last thing Marcus wants to do is take on a charity case, and to say that he and Cole don't see eye to eye at first is putting things mildly. But when the first attempt on Cole's life nearly kills them both, Marcus realizes that Cole is in real danger, and Cole is forced to reveal everything. Almost everything. Because Cole's deepest secrets could destroy them both. 
Review:
I have read several other books by S. E. Jakes and enjoyed them. In fact, I've given every other book by them a 4 or 5 star rating. So, I know they can pace a book, develop a character, write clear, concise scenes and believable romance between rough men. And it's a really good thing I've read these other books, because if I had to judge Jakes on this book I wouldn't believe it.
This book is rushed, clumsy, inconsistent, poorly edited, under-developed and just a bad example of writing, from an author I know is capable of more. Here is an example: In the final climatic scene the villain is killed (I don't think that's a spoiler, the villain always dies in this sort of book) and I couldn't even tell who killed them! POVs are all over the place, even though there are sometimes (but not always) headers inferring whose POV the section is supposed to be from. Characters were named that weren't in the book, so I didn't know who they were. I often couldn't' tell who was doing what or in what position someone was in during sex scenes. Names were swapped. It was just a bloody mess!
Part of this may come down to the fact that, as another reviewer pointed out (and that's the only indication I've seen) that this is a spin-off from another series. But this is no excuse and I take issue with this on multiple fronts. One, if you're calling it a new series, spin-off or not, I should be able to pick it up and read it without reading the previous series; otherwise it's part of the first series. It should be self-contained enough to allow this. Two: especially if nothing warns the reader that it is a spin-off! And as far as I can tell, nothing does. I feel lied to, as a reader, on this front. Tricked into picking something up that I was never going to be able to engage in without being forewarned.
This was a total fail, made even worse because I expected so much more.