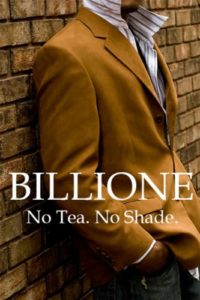 I picked up a copy of Billione's No Tea. No Shade. from Amazon, when it was free.
Description from Goodreads:
Detroit poet Billione (pronounced bill-LEE-yon) ventures into new territory with his first novel entitled No Tea. No Shade. Inspired by the late E. Lynn Harris, Billione offers an insightful glimpse into the life of Chauncey King: a closeted, black, gay man nearing 40 who seems to stop at nothing to get what he wants. 
On the surface, this dapper, charismatic, successful Editor-in-chief of the Detroit Daily news seems to have it all. However, Chauncey goes from reporting the news to being the center of his own scandal after coming face-to-face with his turbulent past. His life seems to unravel until he meets Malcolm Dandridge at a local bathhouse and realizes that in order to be happy he must first face his biggest fear.
Review:
OK, I'm going to start with my hesitation to read this book, that being a debut author billing himself as well known enough to go by a single name and that name being more prominent than the title of the book. This being the origins of the term Big Name Author. Further, that name taking place of precedence in the book's blurb, with its pronunciation coming before any other information about the book. It takes a lot of confidence put yourself out in the world this way, but experience makes me wary of such authors, as they often have more ego than skill.
I found that to be sadly true in this case. Now, let me be fair, the book is sweet. It has a nice theme about being true and open with yourself and the author obviously knows his character well. However, the writing is amateurish. Names and titles are used far too often in dialogue to feel natural. There are too few contractions, inconsistencies in POV and contradictions in the plot. The timeline of the flashbacks is uncertain. There is far too much tell and no where near enough show. The plot lurches along in a clunky manner, everything resolves itself far too easily (most off page even) and there is a frankly ridiculous epilogic lead-in to a sequel. It is not a smooth or satisfying read.
The author does show promise though. Perhaps when he has as much experience in writing prose as he does poetry he'll be one to watch.