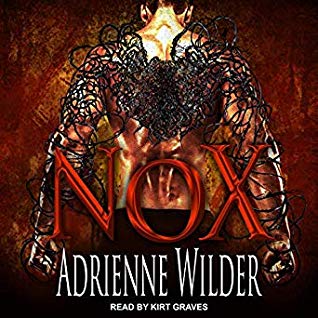 I borrowed the audio version of Nox, by Adrienne Wilder through Hoopla.
Description from Goodreads:
A nude man invades Luca Suarez's home and protects him from creatures who cannot exist. Creatures hunting him.
The stranger can't tell Luca why. He can't even tell Luca his name. He remembers nothing until the moment he sees Luca. The only hint Luca has to the stranger's identity is a tattoo on his wrist: "N o X".
Nox doesn't know who he is, but he's sure of three things, his memory loss is temporary, the monsters chasing Luca are called Anubis, and his Alpha, Koda, sent Nox to protect him. There's just one problem…. Koda is Luca's brother who was murdered five years ago.
With each passing hour, Nox fills in the pieces painting an impossible truth. And with each passing hour, both men find themselves inexplicably attracted to each other. Something Luca is willing to embrace because he has nothing left to lose. And one Nox can't let happen because it could get Luca killed.
Review:
Objectively, I can say this book has flaws. It drags at times. There are several scenes I thought funny, but I also thought weren't really needed. And the villain was disappointing; both in the sense of his motive being boring and his defeat anti-climatically easy. It felt rushed. However, subjectively, I enjoyed it enough for a 5 star rating. (The narrator, Kirt Graves, may have contributed to this. He did a great job.) At the end of the day that's what matters. I liked both Nox and Luca and I thought the Anubis an interesting shifter style. Reece and the colonel stole the show for me though. I loved their banter.