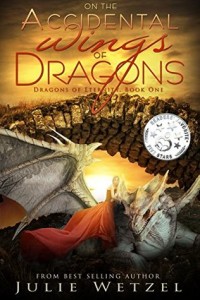 I picked up a copy of On the Accidental Wings of Dragons, by Julie Wetzel, when it was free on Amazon. (It was still/again free at the time of posting.)
Description from Goodreads:
When Michael Duncan is sent to investigate the disappearance of several dragon subjects, he finds himself in a bind. Locked in a dungeon, his only hope lies wrapped in a bundle of cloth tossed at his feet. One kiss and his life is changed forever. Hunted by his own people for crimes he didn't commit, Michael has to learn a whole new life at the hands of a beautiful woman. Can she help him clear his name, or will just being in her presence get him sentenced to death?
Carissa Markel doesn't know who this man chained to the wall is, but he's her only chance for escape. She has power, but, born without a voice, she lacks the means to wield it. One choice, made in desperation, sends them running for his life. Does she have the strength to help him clear his name? And what will her brother, the King of Dragons, do if he finds out what she's done? That's immaterial, the real question is… can she keep her hands off him long enough to find out?
Review:
I went into this pretty much just thinking, "DRAGONS!" I love dragons, but that wasn't enough to carry it through. The book is fluffy and  I can't say I hated it, but it is pretty flimsy in the plot, development, character and world departments. A lot of questions are left unanswered. Characters are introduced and then disappear when they're not needed anymore. Most of the events are little more than a sketched out structure to hang the 'romance' on. The villain is a shadow, you never really even meet him. None of the side characters have any depth and the main ones have very, very little. It had a few cute bits, but that's just not enough to make a book worth reading.