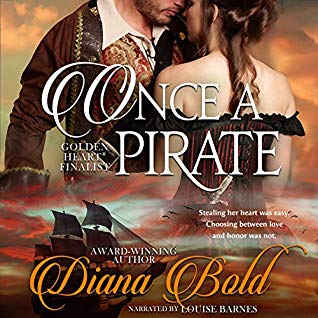 I received an Audible credit for a copy of Once A Pirate, by Diana Bold.
Description from Goodreads:
The Earl of Sutcliffe has a problem – his son, Daniel, prefers men to women.  After two years of marriage to Lady Kathryn Sinclair, Daniel hasn't produced an heir.  Desperate to continue his bloodline, Sutcliffe turns to his illegitimate son, Talon Montgomery. Knowing the prosperous American privateer will never do as he wishes, Sutcliffe arranges for his son to be falsely arrested for piracy. Talon is devastated when he believes his entire crew has been executed.  When he discovers Sutcliffe has interceded on their behalf, Talon is willing to do anything to keep them safe – even seduce his sister-in-law. 
Review:
Mechanically this was well written, and the narrator did a fine job of it. But I had a hella lot of problems with the plot. For one, while it doesn't quite sink to Bury Your Gays, it comes perilously close (more than once). What's more, it's done off-page, practically without comment and 100% without mourning. And it comes within touching distance of suggesting the gay character is gay because he was sexually abused as a child. (Though I will acknowledge that he doesn't actually die or have a tragic future, just a tragic past.)
Secondly, the "love" is so fast as to feel instant. I didn't feel this relationship AT ALL.
Third, the villain is so villainous as to be a caricature.
Lastly, Kathryn (the heroine) is married. But the book still follows the well trodden love=marriage and children pathway. Which can't really work when the woman is already and still married to someone else! (Thus the need to Bury the Gay.)
This is apparently a republication of an older work, from 2006. I feel like if I'd known that before I read it, I wouldn't have chanced it. The genre has come a long way in the past decade. The fact that the writing itself was decent makes me think I could give a newer work a chance and maybe like it.