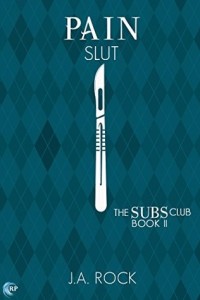 I received a copy of Pain Slut, by J. A. Rock, from Netgalley. I reviewed book one of the series, Subs Club, late last year.
Description from Goodreads: Honestly, I'm ready to take a step back from the Subs Club. Making the kink world a safer place for subs is the sort of bandwagon I'd have boarded as an idealist in my early twenties, but now I'm a pragmatist in my late twenties. I prefer to focus on adopting and raising a child.
But unexpected factors inevitably derail my plans. Like Drix Seger—attractive and the first genuine sadist I've encountered. If I were not in the process of renouncing my masochistic ways and becoming the normal, responsible potential father the adoption agency wants to see, Drix and I might do well together.
But he has a foolish name and belongs to a cult of vampyres, and I am quitting kink. So why does Drix's infatuation with blood and biting make me so hot I can't think straight? And why, when he looks at me, does he seem to see something beyond a basket case with a stick up my ass?
Can I start a new phase in my life without leaving part of myself behind? Please send help.
—Miles
Review:
The writing is this book was as good as any I've read from Rock. It was well paced and had interesting characters and themes, but it was way past my comfort level. In fact, I'd say it probably hit my hard limit.
I just could not get down with slapping people in the face and punching them in the stomach during sex. I had way less problem with the knife play than that. (And that's likely just me.) Then, during that last, climactic ménage scene I kept thinking, "Miles should probably just be dead by this point." I really felt like Rock just threw everything they could think of into it and it eventually started to seem like a grocery list of tortures. (I thought most of the Scenes felt a little like this.)
I appreciated what Rock had to say on safety in BDSM communities, the interaction of different kinky sub-cultures, being more than your kink, and negotiating vanilla society and authority as a kinky person, but this was not a book I was ever comfortable reading. But for those who are more tolerant of extremes in their erotica this will probably be a real winner.