I won a paperback copy of Jessie Mihalik's Aurora Blazing through Goodreads. So, I borrowed Polaris Rising from the local library.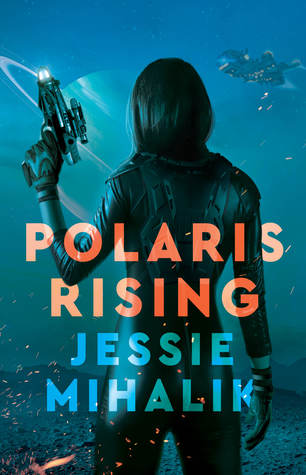 Description of Polaris Rising:
A space princess on the run and a notorious outlaw soldier become unlikely allies in this imaginative, sexy space opera adventure—the first in an exciting science fiction trilogy.

In the far distant future, the universe is officially ruled by the Royal Consortium, but the High Councillors, the heads of the three High Houses, wield the true power. As the fifth of six children, Ada von Hasenberg has no authority; her only value to her High House is as a pawn in a political marriage. When her father arranges for her to wed a noble from House Rockhurst, a man she neither wants nor loves, Ada seizes control of her own destiny. The spirited princess flees before the betrothal ceremony and disappears among the stars.

Ada eluded her father's forces for two years, but now her luck has run out. To ensure she cannot escape again, the fiery princess is thrown into a prison cell with Marcus Loch. Known as the Devil of Fornax Zero, Loch is rumored to have killed his entire chain of command during the Fornax Rebellion, and the Consortium wants his head.

When the ship returning them to Earth is attacked by a battle cruiser from rival House Rockhurst, Ada realizes that if her jilted fiancé captures her, she'll become a political prisoner and a liability to her House. Her only hope is to strike a deal with the dangerous fugitive: a fortune if he helps her escape.

But when you make a deal with an irresistibly attractive Devil, you may lose more than you bargained for . . .
Review:
This wasn't bad for a sci-fi romance…romance in space…romantic sci-fi (whatever you want to call it). I enjoyed both the main character and the hero, though I REALLY wish we had a little of Marcus' POV.

However, I was bothered by two big things (and several smaller things that I won't bother with). One, there were some BIG coincidences that helped Ada along. At one point, something was stolen from her on one planet, then on a whole separate planet she went to buy a replacement from a fence and ended up buying back her own thing. I can't imagine that happening without divine intervention or something. Secondly, this is said to belong in the future, but there are too many similarities to contemporary times. The fashion is exactly the same, a suit and tie or tux is still ideal for a man. Women still wear flowy dresses, strappy heels, and makeup. A good breakfast is still waffles, eggs, and bacon. Society is still patriarchal and sexist as hell. Humans have conquered the galaxy and culture hasn't changed at all?

All and all, I'd be more than happy to read book two (have it, in fact). But I don't feel any pressing need to rush to it.
---
Description of Aurora Blazing: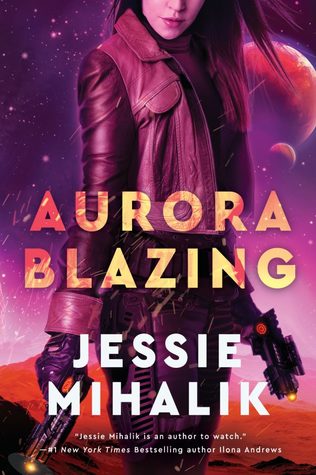 Bianca von Hasenberg did her duty for High House von Hasenberg and ended up trapped in a terrible marriage. When her husband dies unexpectedly and leaves her a happy widow, she vows never to marry again. Instead, she uses her connections to save other young women. Information is power and Bianca has a network that would be the envy of the 'verse—if anyone knew about it.

After an attack, Bianca's oldest brother, the House von Hasenberg heir, disappears from Earth without a trace. Determined to find him, Bianca leaves against orders. When she refuses to return, her father sends Ian Bishop, the director of House von Hasenberg security, to haul her home like a recalcitrant child.

Bianca leads Ian on a merry chase across the universe, but when their paths finally collide, she persuades him that they would be far more successful at finding her brother if they worked together. She will do anything to save her sibling, even if it means spending time alone on a small ship with the handsome, infuriating man who once broke her heart.

As clues lead them deep into rival House Rockhurst territory, Bianca must decide if she can trust Ian with the one piece of information that could destroy her completely. . .
Review:
I enjoyed the second half of this book, but the first half not at all. My problem was that the hero was a condescending asshat to the heroine. Over and over again he would stymie her efforts and then pretend she was being unreasonable because she wouldn't blindly follow unreasonable orders. If he hadn't been the obvious eventual love interest, but just a beleaguered head of security beholden to her father, rather than her, I might not have hated it. But that he was supposed to be the man she fell in love with, in fact, was having lusty thoughts about even while being 100% unlikable made me hate him and the book. When he finally had a sudden personality transplant, just past the halfway mark, I tolerated the book. Unfortunately, the last hundred and fifty pages didn't give me enough distance from the first hundred and fifty to say I liked it. I liked book one and I still like the overarching plot. So, I'll read book three. But this one was a dud for me.