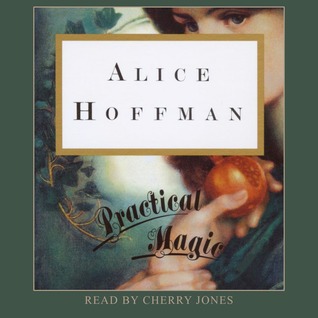 I borrowed an audio copy of Alice Hoffman's Practical Magic through my local library. I finished it several days ago and forgot to write the review!
Description from Goodreads:
When the beautiful and precocious sisters Sally and Gillian Owens are orphaned at a young age, they are taken to a small Massachusetts town to be raised by their eccentric aunts, who happen to dwell in the darkest, eeriest house in town. As they become more aware of their aunts' mysterious and sometimes frightening powers — and as their own powers begin to surface — the sisters grow determined to escape their strange upbringing by blending into "normal" society.
But both find that they cannot elude their magic-filled past. And when trouble strikes — in the form of a menacing backyard ghost — the sisters must not only reunite three generations of Owens women but embrace their magic as a gift — and their key to a future of love and passion.
Review:
If you've seen the 1998 movie by the same name you know the plot of this book. It was fairly loyal to the book. Though the book isn't quite as intense as the movie, preferring a more modulated and thoughtful tone that I very much enjoyed. I appreciated the realness of the sisters, especially when contrasted with the everyday occurrences of magic in their and their ancestors' lives. I thought the writing was lyrical and the narration on the audiobook lovely to listen to.