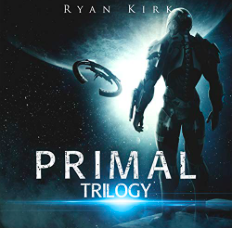 I received a free Audible code for a copy of Ryan Kirk's Primal Trilogy.
Description from Goodreads:
Tev is a hunter, raised from birth to protect and feed his clan. Among his people, his skills are unmatched. With a spear and knife in hand he has never failed. He longs to explore the world beyond the boundaries of his hunting grounds, not knowing the cost that wish will have. 
His life, and the lives of every member of his clan, are shattered when fire descends from the sky, bringing with it dangers far beyond any that existed before. Tev's hard-won skills are all that separates his clan from complete annihilation. 
The Primal Trilogy collects the first three short novels in the Primal universe, as well as the short story "Rebellion," set years before the events of the trilogy. The Primal Trilogy details first contact between two technologically different societies, then follows the consequences of that encounter for generations.
Reviews:
Primal Dawn:
I liked the characters here a lot and the world-building of a human race in alone space, but still a little uncertain. However, I wasn't all together comfortable with how heavily the plot depends of the comparison of the noble savage and the distanced modernity. Further, I didn't at all understand the mindset, that is integral to the plot, that when one of their own soldiers goes rogue the only available option was to put a primitive man (who hasn't even seen metal before) into a futuristic exo-suit and send him out to hunt. This over even a discussion of leaving the ship themselves. This over broadcasting a message that Derrick was alive to calm the soldier down. This over any possible artillery on the drop ship itself. I won't even get into the deus ex mechina that allowed the primitive man to be the better warrior in unfamiliar technology, since that appears to actually be a plot point in book two. But the central plot point is one that left me totally baffled.
I did think the book conflated warrior and hunter. Tev is supposed to be this great warrior. But his people all seemed fairly communal and peaceful. There was never any mention of warring between the clans. What was described was Tev being a great hunter (of animals). I don't actually know that all of those two skillsets would transfer seamlessly enough to be interchangeable.
Lastly, while I liked the writing, characters, story, etc there is a lot more page space dedicated to hunting/fighting than actual plot progression. In terms of actual events, not a lot happens. Instead a lot of time is dedicated to what Tev is thinking in a fight or considering his next move or observations. I'm not disappointed to be continuing the series though and am curious what will happen.
Primal Darkness:
Not bad, but eventually I just got tired of listening to fight scenes. It's not that they're bad, just redundant. I feel like 75% of this book is descriptions of fights, or battles, or martial moves, etc. It started to just feel like warrior worship…or Tev worship, as he's apparently better at everything than everyone around him.
There is a bit of a plot, with the ship returning to Tev's home-world and the question of protecting it from the bad guys (that might not be as bad as thought). But it's buried so deep as to feel secondary to 'all hail the amazing Tev and the virtuous Kindra.' Honestly, the drive to simply do the right thing seems overly simple (as does the solution), when speaking in terms of intergalactic interests.
Still, though my interest is waning, it's not dead yet. I'm moving on to book three.
Primal Destiny:
As with the previous books the writing was fine. However, as the conclusion to the series, I found it less than satisfying. Too many questions are left unanswered. Most aren't even addressed. I could probably list a dozen here, from 'Where did the rebellion get all that technology—who funded them' to 'Where did Needra go'—she was a prime warrior and just disappears as a character. (I listened to the audio. So, I'm not positive I spelled that name correctly.)
By the end, I also started to feel it was a book of men doing men things. Kirk was good about mentioning both men and women were hunters and warriors. But as the series progressed (and especially here in the last book), the story became more fight-scene heavy and women faded into the background (or disappeared entirely for large chunks of time) and became secondary characters. I mention this because the books synopses infer that Tev and Kindra are the main characters. But after reading this, I'd say they are Tev and Derrick. Kindra is too rarely involved in the action and decision making and frankly just isn't given as much page space. I would personally call her first of the secondary or supporting characters. And I feel like Kirk (maybe as a male writer) did this by accident.
All in all, this wasn't a bad book at all. But I have to admit to being happy to be finished with it. Tev is a lovely characters, but I didn't much enjoy the author's didactic condemnation of modernity. But again, not bad.