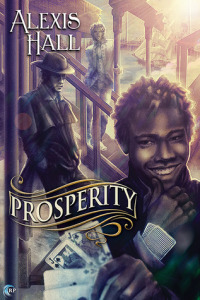 I received an ARC of Alexis Hall's Prosperity from Netgalley.
Description from Goodreads:
A breathtaking tale of passion and adventure in the untamed skies!
Prosperity, 1863: a lawless skytown where varlets, chancers, and ne'er-do-wells risk everything to chase a fortune in the clouds, and where a Gaslight guttersnipe named Piccadilly is about to cheat the wrong man. This mistake will endanger his life . . . and his heart.
Thrill! As our hero battles dreadful kraken above Prosperity. Gasp! As the miracles of clockwork engineering allow a dead man to wreak his vengeance upon the living. Marvel! At the aerial escapades of the aethership, Shadowless.
Beware! The licentious and unchristian example set by the opium-addled navigatress, Miss Grey. Disapprove Strongly! Of the utter moral iniquity of the dastardly crime prince, Milord. Swoon! At the dashing skycaptain, Byron Kae. Swoon Again! At the tormented clergyman, Ruben Crowe.
This volume (available in print, and for the first time on mechanical book-reading devices) contains the complete original text of Piccadilly's memoirs as first serialised in All the Year Round. Some passages may prove unsettling to unmarried gentlemen of a sensitive disposition.
Review:
Honestly, I'm not normally what people might refer to as a gusher, but this book is LUSH! There are moments of such painful poignancy that I literally found myself momentarily devoid of reason.
It's not perfect. It took me a long time to get comfortable with Piccadilly's dialect and at times I thought it was overplayed. I really wanted to see Byron Kae's happily ever after and there is a lot of empty space between the bits we know about the characters. But it's close enough for jazz.
What it is that I love so much about this book isn't necessarily the aetherpunk or krakens or action. It's not the romance (if that's the word for it), though that's wonderful. It isn't even directly the characters themselves, though they're worship-worthy. It's the brutal honesty of those same characters' fragility. Yes, I know, it's an oxymoron. But read the book; you'll understand.
The mixed up crew of the Shadowless inhabit a world in which they won't allow themselves the comforting self-deceptions we all so often clothe ourselves in. What would life without your mask feel like? As a result these same miscreants sometimes ring with peals of emotions so pure they put me in mind of crystal bells wrung by aery angels draped in the gossamer threads of God's tears…or some such bollox. You get the point. I felt for these characters. And you see fairly early on that whatever happily ever after they may get aren't the ones they want. But you root for them anyway.
Now, the whole thing isn't to be taken too seriously, 'cause the book is also damned funny in an occasionally dry, very British way. But it's self-aware enough to play with the expectation it builds in the reader, slipping punchlines in unexpectedly. Not often, or not often enough to be predictable, but there all the same.
Goodreads says that this is the 205th book I've read this year and this is probably one of, if not my absolute, favourites. It wasn't at all what I expected and I'm so glad for that. Go read it right now!