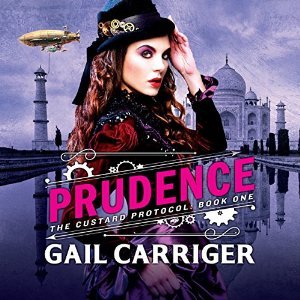 I borrowed an audio copy of Gail Carriger's Prudence
through my local library. And if you want pressure to finish a book, try borrowing an audiobook through Overdrive, having and hour and ten minutes left of it and noticing the book will be auto-returned in one hour. Luckily, the automation doesn't appear to be too exact. I managed to finish it.
Description from Goodreads:
When Prudence Alessandra Maccon Akeldama (Rue to her friends) is given an unexpected dirigible, she does what any sensible female would under similar circumstances – names it the Spotted Crumpet and floats to India in pursuit of the perfect cup of tea. But India has more than just tea on offer. Rue stumbles upon a plot involving local dissidents, a kidnapped brigadier's wife, and some awfully familiar Scottish werewolves. Faced with a dire crisis and an embarrassing lack of bloomers, what else is a young lady of good breeding to do but turn metanatural and find out everyone's secrets, even thousand-year-old fuzzy ones?
Review:
Carriger's Parasol Protectorate is one of my favorite series and I looked forward to visiting old friends in Custard Protocol. And I enjoyed that aspect of it a lot, along with Carriger's signature humor and patent ridiculousness. However, without her mother's gravitas, I found Rue's similar eye to fashion and tea times frivolous and just this side of annoying. I liked her no where near as much as Alexia. But this is also much more of a YA title than Soulless (not that that's overly adult), so this could account for some of my disappointment. All in all, light and amusing, but not a home run. Though Moira Quirk did a marvelous job of the narration.